By Diana Jarrett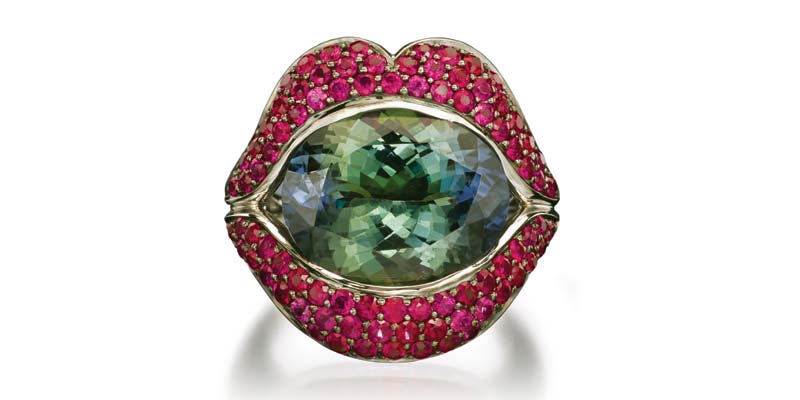 Every Tucson GemFair develops its distinct persona, evolving from a fusion of economics, supply, new finds, and a marketing behemoth that fuels demand. This year was no different, with exhibitors characterizing the mood as upbeat and confident, and retailers looking to pick up old favourites and lesser-knowns alike.
Douglas K. Hucker, American Gem Trade Association's (AGTA's) chief executive officer (CEO), says the 29th annual Spectrum Awards mirrored the interest designers are currently placing on coloured stones. "We've seen trends for high-quality ruby, sapphire, and emerald in traditional settings," he pointed out. "For instance, (one of the awards went to) a 13-carat Burmese cabochon ruby; that's a strong commitment to tradition." But surprisingly on the other end of the spectrum, he said "drusy has found favour with designers who sell to the organic jewellery consumer."
Coloured stone expert, Richard Drucker of GemWorld International, says emeralds are doing well, although other classic coloured stones received mixed reviews. While fancy sapphires are trending, he cautioned that ruby has taken a hit, given a proliferation of glass-filled material being sold without disclosure. However, Tucson customers buy at all price points, and Drucker says he found other sweet spots, too. "A few interesting gems were introduced to customers this year like agate, zircon, iolite, sphene, and scapolite. All are affordable."
Omi Gem's director of marketing, Natalie Weisiger, sees classic stones like ruby and sapphire being top sellers. "And with strong consumer demand, it's also becoming more difficult to find quality matching rubies and fine sapphire rounds," she adds.
This year's colour burst was due in part to diamond price hikes and supply shortages in the magic sizes like half, three-quarter, and one carats used for bridal jewellery. The result is coloured stones are being combined with one another, rather than accented with diamonds. Drucker adds, "With the higher price of diamonds, many gemstones are being used as alternates for centres. The traditional diamond centre is not always the case anymore."