Preserving meaning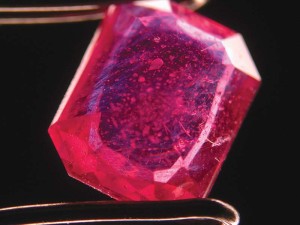 So what does this all mean to the jewellery industry? Simply put, the retailer needs to be informed and knowledgeable, since DLC-coated products are readily available over the Internet and can now be found at jewellery trade shows. Manufacturers claim the coatings increase scratch resistance and that light-behaviour properties are similar to diamond. In addition to the discussed physical properties DLC would impart onto gemstones, treaters say coated cubic zirconia can be indistinguishable from a diamond when examined with the naked eye.
The problem arising in our industry is the word 'diamond' is quite valuable. We use it to identify something that is better. For example, a diamond-cut sapphire is not cut to the exact faceting style of the description it carries, but we use that adjective to identify a stone with single facets running from the girdle to the culet. And so when a treated product can be identified as diamond-like carbon, or commonly described as 'diamond coated with DLC,' the emphasis is on the 'diamond' and less on the 'like carbon.' Further, the term 'DLC' can be an inappropriate statement when the method used has resulted in a very diluted diamond crystal concentration. Instead, the term 'graphite-like carbon' might be more appropriate.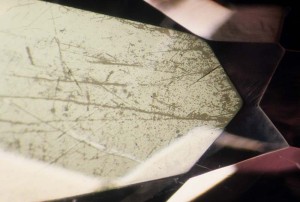 Specific tools and techniques exist for identifying the underlying gemstone treated with a DLC coating. In most cases, however, it can be as simple as using a CZ tester when identifying a cubic zirconia or having a good grasp of what natural gemstone inclusions look like when viewed under magnification. It is important to keep in mind that most consumers looking to purchase an engagement ring or any other diamond product start their search on the web. There are many online e-retailers successfully selling diamond-coated cubic zirconia with full disclosure, which obviously serves a far better purpose. But for many consumers, a DLC-coated cubic zirconia can serve as a very good substitute, since the product carries the moniker 'diamond,' and in the jewellery industry, this term is as good as gold. Compared to a similar product sitting in your showcase for thousands of dollars, the appeal of a DLC product at a significantly less cost may be too tempting to pass up.
I'm always looking for interesting developments in the world of gemmology to discuss. If there is something specific you'd like to hear more about, drop me a note.

Hemdeep Patel is head of marketing and product development of Toronto-based HKD Diamond Laboratories Canada, an advanced gemstone and diamond laboratory with locations in Bangkok, Thailand, and Mumbai, India. He also leads Creative CADworks, a 3-D CAD jewellery design and production firm. Holding a B.Sc. in physics and astronomy, Patel is a third-generation member of the jewellery industry, a graduate gemmologist, and GIA alumnus. Patel can be contacted via e-mail at contactus@hkdlab.ca or sales@creativecadworks.ca.