Running the jewellery gamut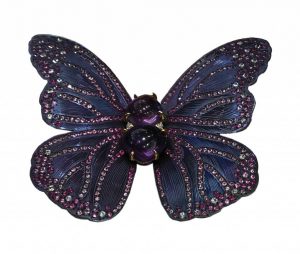 Over at IJS, several themed zones hosted a range of elegant booths and national pavilions, displaying jewellery of every type from around the world. Attendees could view anything from inexpensive, mass-produced silver and gold-plated pieces to luxurious, one-of-a-kind works of wearable art in gold and platinum, set with diamonds and fabulous gemstones.
In the Designer Galleria, several small and trendsetting brands that had previously offered fairly traditional jewels were featuring beautiful titanium designs and more contemporary pieces in a variety of materials. As usual, floral designs were popular, as were butterflies and birds. The wide range of exotic earwear pieces (such as ear cuffs and climbers) visible last year was less obvious at this show, although asymmetrical earrings and transformable designs were seen at many booths. There was something for every taste and budget.
Among the highlights of the show was the 19th Hong Kong Jewellery Design Competition, whose theme this year was 'The Vibrant Hong Kong.' A total of 166 entries were received, and the talented winners were announced during the show.
Market sentiment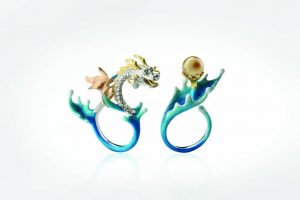 To gauge market sentiment, HKTDC commissioned an onsite survey of 1300 exhibitors and buyers at the two shows. It found 62 per cent of respondents expect overall sales in 2018 to remain unchanged, while 33 per cent expect an increase and only five per cent expect sales to fall (lower than the 16 per cent recorded last year).
In terms of retail prices, 67 per cent of those interviewed believe prices will remain unchanged. However, 31 per cent feel they will increase and two per cent anticipate a drop. These numbers seem to indicate a feeling of renewed optimism for the jewellery and gem sectors.
Next year's fair will also be in the two-show format, with gems and pearls located at AsiaWorld-Expo near the airport and jewellery featured in the downtown convention centre. The shows will begin February 28, 2019.
A 20-year veteran of the jewellery and watch industry, Cynthia Unninayar travels the world reporting on the latest trends, promising new designers, global brands, and market conditions. Her interviews with some of the industry's top players offer insight into what's new and what's happening on the global jewellery stage. Unninayar can be reached via e-mail at cynthiau@gmail.com.