By Cynthia Unninayar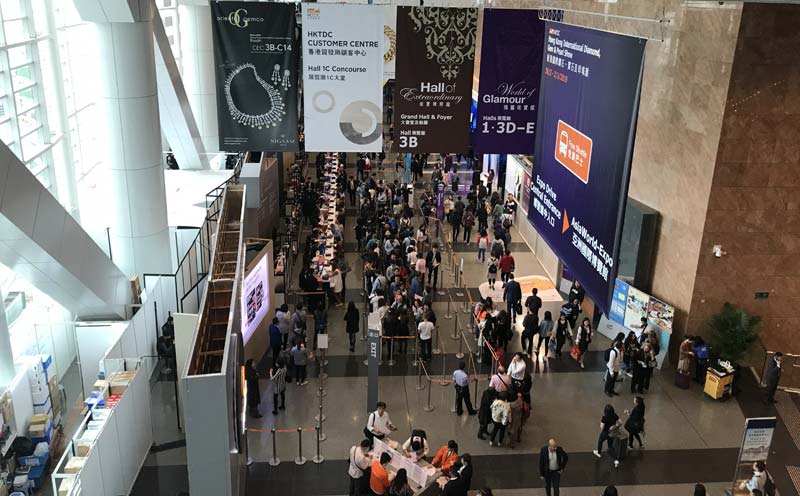 There is little doubt about it: Hong Kong has become a prime destination for the gem and jewellery sector. This is evident in the record number of visitors—more than 90,000 from 141 countries and regions—who descended on the city in late February and early March of this year to see the products offered at the twin shows sponsored by the Hong Kong Trade Development Council (HKTDC). This attendance marked a four per cent increase over the previous year, which itself was already a record number.
Diverse designs
Kicking off the events on February 26 at the AsiaWorld-Expo venue, the five-day HKTDC Hong Kong International Diamond, Gem and Pearl Show focused on raw materials (i.e. loose diamonds, coloured gemstones, pearls) from around the world. Meanwhile, the second half of the event, the Hong Kong International Jewellery Show (held February 28 to March 4 at the Hong Kong Convention and Exhibition Centre [HKCEC] in Wanchai), featured a range of finished jewellery, from basic silver findings to luxurious diamond and gemstone suites in gold or platinum.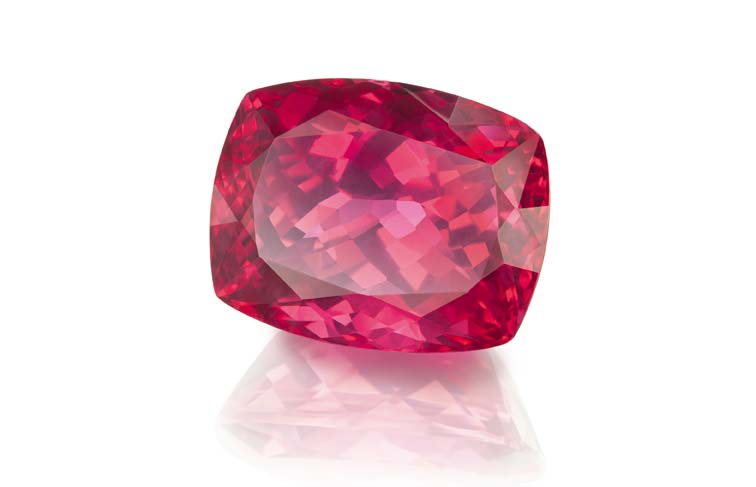 Together, the two shows attracted more than 4600 exhibitors from 48 countries and regions, thus continuing the distinction of being the world's largest jewellery marketplace.
"By bringing together exhibitors from all corners of the world and showcasing the finest jewellery and raw materials, the two HKTDC shows serve not only as a one-stop promotion and sourcing platform for the industry, but also make Hong Kong a top jewellery trading and sourcing hub for buyers globally," said Benjamin Chau, HKTDC's deputy director.
He also commented that, due to an "uncertain global economy" many jewellers have been "actively enhancing their design and research and development (R&D) capabilities in recent years." This has led to a diversity of designs and materials that was apparent in the exhibits at this year's shows.
"In the midst of the current economic instability, these jewellery trade shows help brace the industry for the challenges ahead," Chau said.
Beyond record attendance in buyers, he also noted satisfactory growth in attendees from the industry's emerging markets, including mainland China and India, as well as countries in the Association of Southeast Asian Nations (ASEAN), including the Philippines, Singapore, Malaysia, and Indonesia.
A rainbow of options
The shows offered a range of themed and national pavilions, displaying a variety of types, colours, and qualities of gemstones. Among this year's 'hot colours,' according to a number of dealers, were pink, red (mainly spinel and ruby, both Burmese and Mozambique), and sapphire, as well as morganite and peach-toned Padparadscha sapphires. Unheated stones of all kinds maintained popularity, especially sapphire and ruby, with prices continuing to climb as supplies dwindled.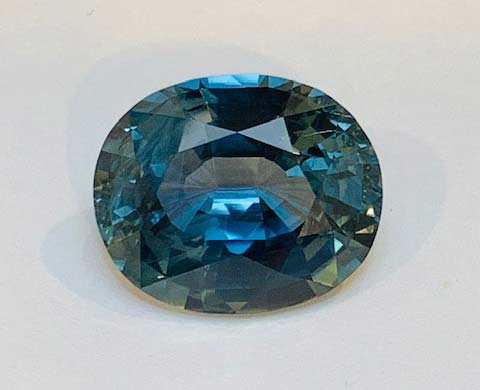 Also appreciated by buyers were blue and green gems, particularly Paraiba and green tourmaline, aquamarine, and emerald, all of which were featured at many booths. My attention was drawn to some of the less common bluish-green and teal sapphires, carried by few companies. The Australian opal booths were busy, confirming my suspicions the multi-coloured gem is set to make a serious comeback. Several of these dealers indicated the price of these stones is approaching peak levels last seen in the 1980s and 1990s.
A mix of old and new
The Hong Kong International Jewellery Show at HKCEC featured a new Amber Pavilion, which showcased a range of jewels crafted with these lovely organic gems. Alongside the themed pavilions, antique jewels were in abundance at the Antique & Vintage Jewelry Galleria, while new designers were featured at the event's Designer Galleria.
With such a variety of jewellery and materials, there were nonetheless a few specific design directions already seen at other shows, including pieces with an emphasis on nature-inspired motifs like butterflies and flowers. This year, however, I noted an influx in jewels that evoked a cause or largescale concern (i.e. representative of polar bears and melting ice due to climate change). Further, a number of exhibitors from Asia showcased jewels depicting stories. Luxurious suites with precious, often coloured, gems were abundant, especially in the show's 'Hall of Extraordinary.'
Beyond stones
In addition to gems, pearls, and finished jewellery, the shows featured a broad range of activities and events, designed to provide industry players with educational and networking opportunities. Various labs were on-site to test materials. Winners in the traditional design contests were announced during the show and their truly exceptional creations were celebrated. 
Aligning with technology's increasing prevalence in the industry, IT solutions were available for management, inventory, design, production, and e-commerce. One company showcased high-density ceramics and gemstones that had been equipped with waterproof smart chips and could be used for messaging and even emergency alerts; the jewels can be set into a range of pieces, including bracelets, necklaces, and earrings.
A promising outlook
During the shows, the HKTDC commissioned an independent on-site survey, which gauged the opinions of 1347 exhibitors and buyers in regards to their business expectations and views on the industry's latest developments. With the U.S.-China trade conflict weighing on the global economy, 60 per cent of respondents stated they were neutral or positive about their export performance over the near term, while close to 80 per cent said they were optimistic or neutral about the prospects of the two countries resolving their trade issues.
In regards to overall sales, 61 per cent of respondents said they expected to see no change this year, with 33 per cent expecting sales to increase and only 6 per cent anticipating a decline. This suggests that, despite the current global uncertainties, the majority of the industry has maintained an optimistic outlook in regards to business. In terms of product categories, fashion jewellery was widely regarded as the most popular, followed by designer pieces, wedding/special occasion jewels, and precious jewellery.
It will be interesting to see how trends and politics continue to influence the industry. Next year's HKTDC-organized shows will take place March 2 to 6 (Hong Kong International Diamond, Gem and Pearl Show) and March 4 to 8 (Hong Kong International Jewellery Show).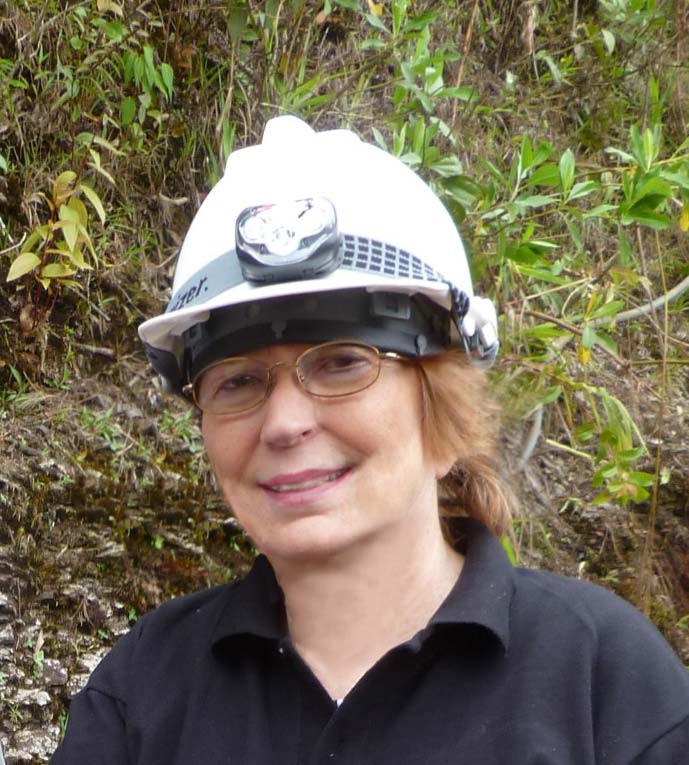 A 20-year veteran of the jewellery and watch industry, Cynthia Unninayar travels the world reporting on the latest trends, promising new designers, global brands, and market conditions. Her interviews with some of the industry's top players offer insight into what's new and what's happening on the global jewellery stage. Unninayar can be reached via e-mail at cynthiau@gmail.com.