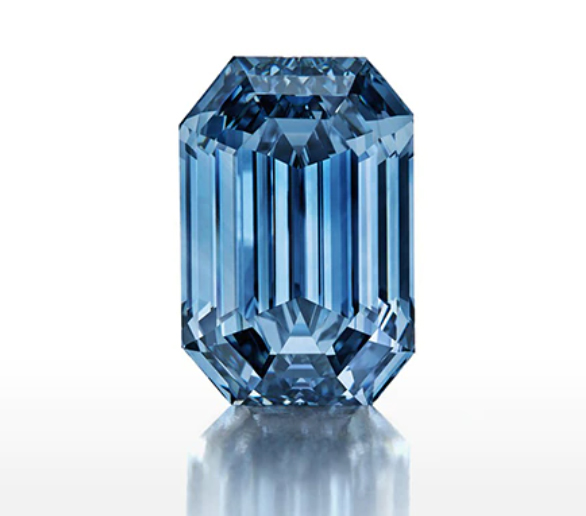 The largest vivid blue diamond to ever appear at auction is expected to fetch up to $61 million (US$48 million) when it goes under the hammer in April.
Weighing 15.10 carats, the 'De Beers Cullinan Blue' anchors Sotheby's Hong Kong Luxury Week, and will be offered in a stand-alone, single-lot live auction. The diamond, which was cut from a 39.34-carat rough recovered last April from Petra Diamonds' Cullinan mine in South Africa, is the largest internally flawless step-cut vivid blue diamond ever graded by the Gemological Institute of America (GIA).
Only five examples of blue diamonds larger than 10 carats have ever come to auction, De Beers reports. Of those stones, none have exceeded 15 carats.
"Hundreds of millions of years in the making, this extraordinary blue diamond is surely one of nature's finest creations," says Patti Wong, chair of Sotheby's Asia. "Now brought to dazzling life by the hand of one of the world's most skillful cutters, it is the ultimate masterpiece—as rare and desirable as the very greatest works of art."
The De Beers Cullinan Blue was purchased by De Beers Group in July 2021 for US$40.2 million.
"This diamond ranks as one of the best De Beers has ever seen," says the company's CEO, Bruce Cleaver. "It is extremely rare and unique, and De Beers is pleased to join together with Sotheby's to bring this diamond to the world."
The diamond will be shown in New York, London, Dubai, Singapore, Shanghai, Beijing, Shenzhen, and Taipei before its sale in late April.
For more, click here.