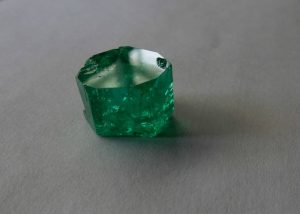 A 25.97-carat rough emerald has been discovered by Canadian mining company Fura Gems. The sizable stone was found in the Toronto-based miner's Coscuez Emerald Mine in the Boyacá region of Colombia.
Named the 'ÄRE Emerald' after the mythical creator of the region's emerald sources, the gem is among 1831 carats of rough emeralds that have been recovered since Fura began a bulk sampling program in March. About 850 carats of those stones are considered high quality, including this new find.
"We are thrilled with the discovery of this exceptional emerald in these very early stages of our bulk sampling program," said Dev Shetty, Fura's CEO. "The quality of the ÄRE Emerald truly represents the opportunity and prestige of Colombian emeralds, which are the most sought-after emeralds in the world."
Fura will hold its first emerald auction once its grading system and mineral resource are finalized, after completion of the sampling program. About 30,000 tonnes are expected to be sampled by the end of the year.