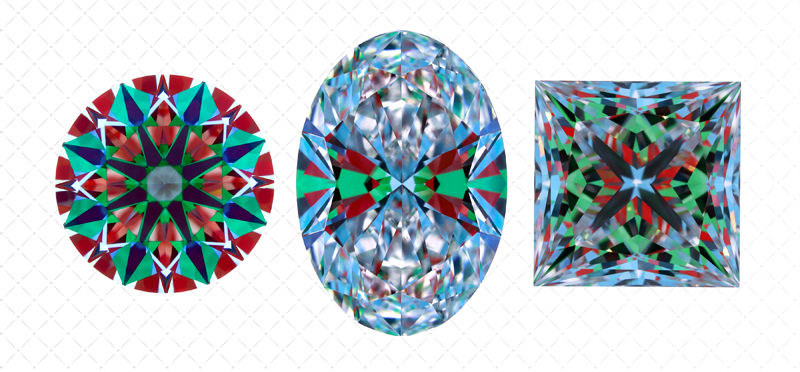 Providing jewellery retailers with the information required to enhance consumer confidence is the driving force behind the Gem Certification & Assurance Lab's (GCAL's) latest offering.
One year after launching its 8X Ultimate Diamond Cut Grade for round brilliant diamonds, the New York-based lab has expanded the certification to oval, princess, and fancy diamonds.
While fancy shape diamonds are typically graded for polish and symmetry only, GCAL's standard focuses on eight critical factors. These include:
Polish
External symmetry
Proportions
Optical brilliance
Fire
Scintillation
Optical symmetry, and
Shape aesthetics
"GCAL has a vast wealth of analytical images and data from every stone that has passed through our lab since opening in 2000," says the lab's COO and partner, Angelo Palmieri. "These include millions of photomicrographs, direct assessment images of optical brilliance, optical symmetry, scintillation, fire, and measurements."
For example, for ovals, Palmieri says, GCAL developed data-mining software to analyze images, and built custom applications to calculate bowtie and shoulder bulge.
"I believe a diamond certificate has been created that honours the exceptional craftsmanship in fancy shape diamond cutting—and not merely with words, but with analytical and visual analysis that backs up those claims," he continues. "This is the proof retailers need to demonstrate a diamond's brilliance, fire, scintillation, and beauty. It is the visual, scientific, and accurate proof consumers have been looking for to make a more informed decision."
GCAL recently partnered with Virtual Diamond Boutique (VDB) to introduce the 8X cut grade to its diamond search filter on the VDB virtual marketplace platform.
To receive a grade of 8X, a diamond must score 'Excellent' on all eight aspects of cut evaluated by GCAL. Cut grades on the VDB marketplace will now range from '8X' (as the best), to 'Ideal,' 'Excellent,' 'Very Good,' and, lastly, 'Poor.'
"This is an important step in the growth and acceptance of the 8X diamond cut grade," Palmieri says. "Wholesalers and manufacturers can now easily search for 8X diamonds. 8X cutters and suppliers are also obvious beneficiaries. And this new search filter adds instant credibility to the growing status of the 8X cut grade."
"At VDB, we are always looking for ways to help retailers assist their customers in finding their own perfect diamond, gemstone, or piece of jewellery," adds VDB's co-founder and president, Tanya Nisguretsky. "We are honoured to work with GCAL to add the 8X cut grade to our diamond search filter, making it both easy and efficient for buyers and their customers who are seeking 8X to find it."