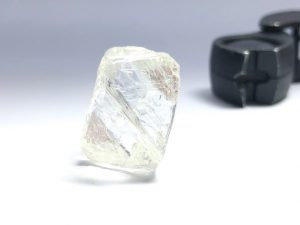 Toronto-based miner Mountain Province Diamonds has discovered a 95-carat diamond in the Gahcho Kué mine.
Photo courtesy Mountain Province Diamonds
Mountain Province Diamonds has found a 95-carat white diamond in the Northwest Territories' Gahcho Kué mine. Co-owned by Mountain Province and De Beers Canada, the mine is now in its second year of production.
The diamond—which features an octahedron shape and impressive clarity—is the fourth-largest stone the mine has produced overall since it opened, and the largest of gem quality. In a recent release, Mountain Province's vice-president of diamond marketing, Reid Mackie, said he believes the discovery bodes well for the future of the operation.
The gem will be available for viewing between June 11 and 22 in Antwerp, ahead of Mountain Province's rough diamond tender.