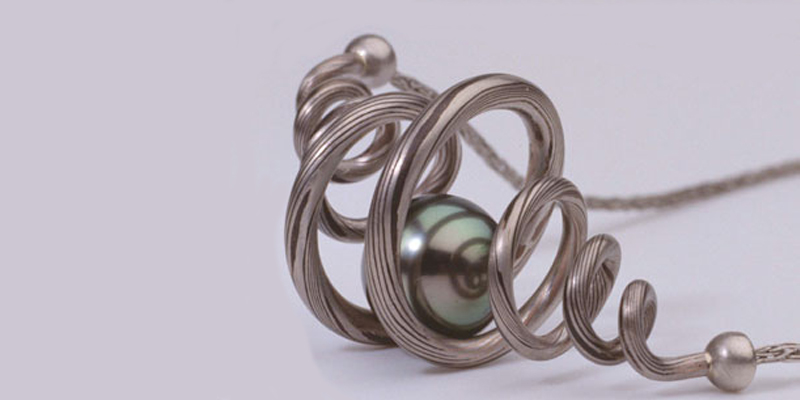 A Canadian is among the winners of the Manufacturing Jewelers & Suppliers of America's (MJSA's) 2008 Vision Award Design Competition.
Toronto designer Ezra Satok-Wolman of E. Satok-Wolman placed second in the Mokumé-gane distinction category with his shakudo and 18-karat white gold necklace with Tahitian pearl.
A first-time winner at the Vision Awards, the 29-year-old designer said the decision to create a housing for the pearl was to avoid drilling or gluing it in any way.
"The pearl is one of nature's perfections," Satok-Wolman told Jewellery Business. "The design is based on the concept of the orbit of planets, which are constantly in motion. The pearl inside the spiral is constantly moving as the wearer goes about their daily routine. I designed a housing for it that would complement the pearl and show a reflection of the spirals on either side of it."
The competition recognizes the innovation of designers whose work is influencing design trends in the jewellery industry. Winners were chosen in professional and student categories, with several professional entries honoured in special distinction categories.
Satok-Wolman said having a category specific to Mokumé-gane—a mixed-metal laminate with distinctive layered patterns—is an indication of its growing popularity.
"It has taken a long time for this material to be noticed and to make its place in the jewellery market," he noted. "The fact [MJSA] has keyed in on that and allocated a place specifically for it is an indication they are thinking forward."
Winners of the annual contest were announced last month at the MJSA Expo New York, where the pieces also went on display.
Along with other industry experts, designers, and educators, Jewellery Business managing editor Jacquie De Almeida served as one of the judges.