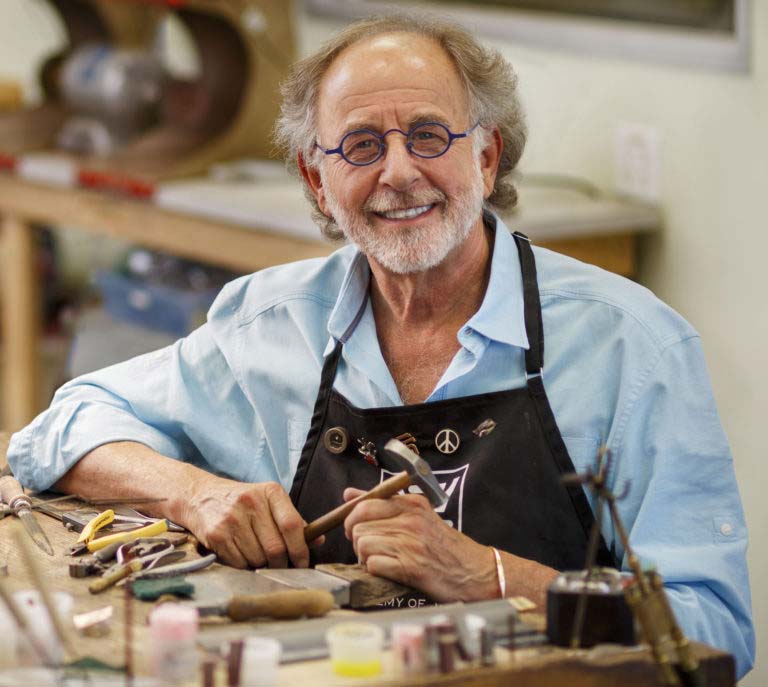 The American Jewelry Design Council (AJDC) has bestowed its highest honour, the Benne Award for Lifetime Achievement, to designer, metalsmith, teacher, and author Alan Revere.
The founder of the Revere Academy of Jewelry Arts, Revere received the award at this year's Tucson gem shows in recognition of his significant contribution to jewellery design. He is one of only five recipients to ever win the award.
"The AJDC is proud to acknowledge Alan Revere's contribution to the jewellery industry and his influence on contemporary design," said Barbara Heinrich, AJDC president. "As an award-winning designer, author, teacher, and mentor to thousands, Alan has left his mark in metal, in print, and in the hands and hearts of jewellers all over the world."
Early in his career, Revere travelled to Germany where he studied classical jewellery-making at the Fachhochschule für Gestaltung (School of Design). Upon his return to the U.S., he developed his craft in San Francisco, where he ultimately opened the Revere Academy in 1979. During the school's 38 years of operations, Revere personally taught more than 10,000 students.
Revere has also published seven books on jewellery-making over the course of his career, beginning with Professional Goldsmithing: A Contemporary Guide to Traditional Jewelry Techniques in 1991.
"Alan brought European craftsmanship and esthetics across the ocean and across the millennia at a very important time for our community," said Heinrich.
"The truth is, I am here today because of you, my former students and colleagues," Revere said as he accepted his award. "Each one of you added your flavour to the mix and each of you has taken your work way beyond what I ever imagined. That's a dream come true."