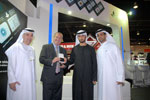 Dubai-based International Diamond Laboratories (IDL) issued the first ever Arabic-language diamond certificate last month, another sign of the region's growing importance in the jewellery industry.
The certificate states the diamond grade and colour in English for international trade purposes and weight, cut, clarity, and other information in Arabic. The certificates are recognized worldwide.
"With diamonds becoming increasingly popular in the Middle East region, the first ever Arabic language Diamond Certificate is an adequate representation of IDL's innovative services, and reflects our commitment to Arab consumers," said the group's vice-chair Ahmed bin Sulayem.
H.H. Sheikh Majid bin Mohamed bin Rashid Al Maktoum presented the certificate to Damas Jewellery for a 24-carat pear-shaped diamond.
IDL is an initiative of Dubai Multi Commodities Centre (DMCC).