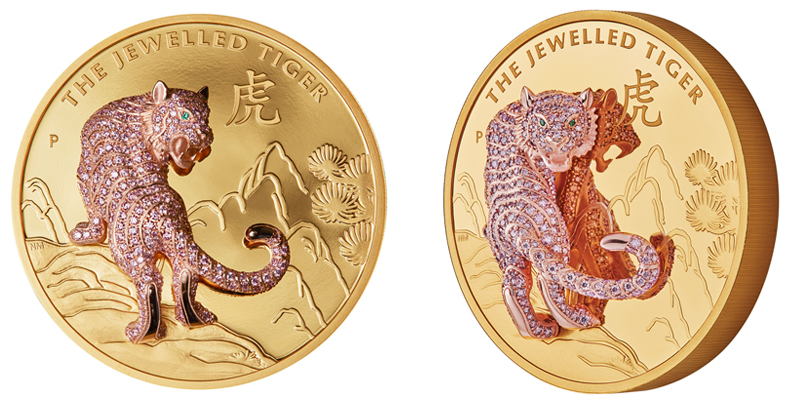 An array of rare pink diamonds recovered from Rio Tinto's Argyle Mine in Australia take centre stage in the latest offering from the Perth Mint.
Crafted from 283.5 g (10 oz) of 99.9 per cent pure gold, the Mint's Jewelled Tiger coin features a 3D 18-karat rose gold tiger, pavé-set with nearly three carats' fancy vivid intense pink diamonds, all of which were unearthed from the Argyle mine. Two vibrant green Columbian Muzo emeralds represent the eyes of the animal.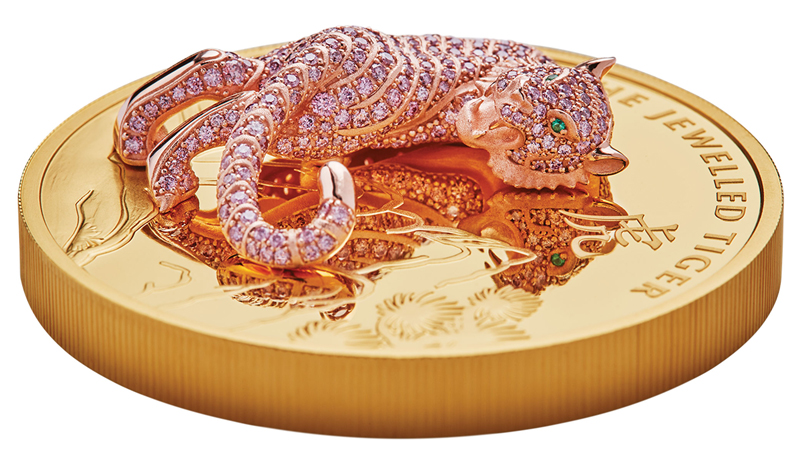 Priced at AUS$235,455 (C$210,513), the coin is legal tender under the Australian Currency Act 1965. Only eight will be produced.
"This limited edition commemorative is truly exceptional in terms of its artistry, rarity, and value," says Perth Mint CEO, Richard Hayes.
The creation is Perth Mint's third release in a series of diamond-studded coins, showcasing Asia's 'mythical and mortal' creatures. The first, 2018's Jewelled Phoenix, and the second, 2019's Jewelled Dragon, sold out within weeks of their respective release dates, the Perth Mint says.
"We expect the Jewelled Tiger will be similarly sought-after among the world's diamond connoisseurs and collectors of luxury items," Hayes says.
For more, check out the video below, courtesy the Perth Mint.