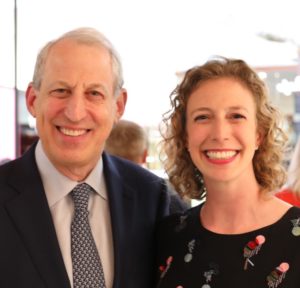 Leadership of U.S.-based Ben Bridge Jeweler will pass to the next generation in the new year. The company's current CEO, Ed Bridge, will retire January 31, with his daughter Lisa Bridge (current president and chief operating officer [COO]) taking up his mantle.
"It has been an honour and privilege working with our associates to create incredible moments and touch the lives of so many customers," said the outgoing CEO in a statement. "I cherish the relationships I have with our team and the treasured friendships with our many industry partners."
Bridge recognizes his father Bob Bridge, his uncle Herb Bridge, his cousin Jon Bridge, and Warren Buffett (CEO of Berkshire Hathaway, which owns the company) as influential mentors in his 45-year career. He has contributed to the industry in numerous capacities, serving as chair of Jewelers of America (JA) and Jewelers for Children (JFC) and as a board member of the Jewelers Vigilance Committee (JVC) and Jewelry Information Center (JIC). Bridge is also a recipient of the American Gem Society (AGS) Lifetime Achievement Award and an inductee of the National Jeweler Retailer Hall of Fame.
"It brings me great joy to know the company will be in such capable hands," he said. "Lisa will surely propel the business into its next phase and a bright future."
Having served as the company's president since 2017, Lisa Bridge has spearheaded a reimagining of Ben Bridge's in-store offerings to appeal to next-generation customers, which will continue in 2019. Other recent initiatives include the launch of a new marketing campaign and a new bridal collection for the holiday season.
"I am endlessly grateful to have had the opportunity to work with and learn from Ed and the generations before me. They have been generous with their wisdom and perspective and will continue to be an inspiration," said Lisa Bridge. "I am humbled to be stepping into this role and I am excited to build a bright future with our incredible team. My mission as CEO is to help our customers celebrate wonderfully meaningful and joyful moments in their lives through the power of jewellery."
Ben Bridge Jeweler has operations across the United States, as well as in British Columbia.