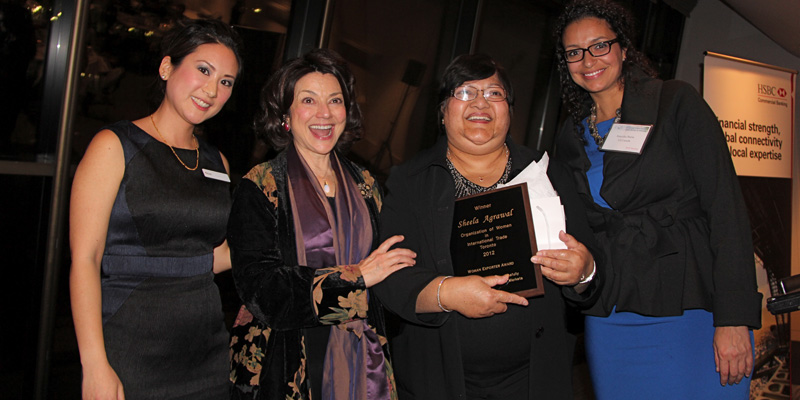 The Organization of Women in International Trade, Toronto (OWIT Toronto) has bestowed its 'Woman Exporter' award on Rajeshwari (Sheela) Agrawal, owner of Best Bargains Jewellery Toronto.
"I am very honoured to receive this award," said Agrawal, whose company exports its Canadian-made products to more than 30 countries.
"It means so much to me. I am supported by the love and care of my daughters, exceptionally dedicated staff, and loyal customers. Together, we've come a long way over 23 years. I am grateful that organizations such as OWIT exist to support and encourage women to take positions of leadership and advance their businesses in export markets. OWIT has helped connect many women entrepreneurs to governmental and non-governmental opportunities to help further business in global markets. We are excited to explore these new avenues and ventures."
The 'Woman Exporter' award recognizes an outstanding Ontario-based woman entrepreneur who is a successful exporter to more than one international market. In addition, the award celebrates the recipient's accomplishments in advancing women and/or the image of Canadian business women in the international business community through her work.
After earning a bachelor of arts in economics and a masters in Hindi literature, Agrawal emigrated to Canada from India in 1976 with her husband. She spent the next four years raising her family before taking a position at a daycare. Two years later, Agrawal earned a business diploma from Calgary's Henderson College of Business. From 1984 to 1990, she worked for several small businesses and non-profit organizations as a bookkeeper and data entry clerk.
In 1990, Agrawal started Best Bargains out of her home, importing and exporting affordable silver and gold jewellery. It wasn't long before she realized she could manufacture similar jewellery in Canada at comparable prices. Five years later, Agrawal relocated the company—which is known for the 50 or so trade shows it attends every year—to the heart of the jewellery district in Toronto, where the business continues to operate.
Long-time customer and friend, Lois Stein, nominated Agrawal for the OWIT award, citing her work ethic, commitment to customer satisfaction, and friendly sales service as reasons why she should receive the honour.
"I highly recommend Sheela for this award because she has worked very hard to bring up her business from a home office into one that is global," Stein said. "Her personality is welcoming and caring and she brings that aspect into every facet of her work."