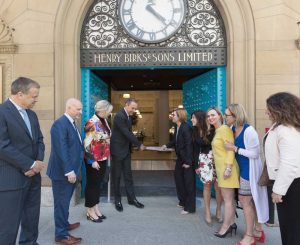 Birks Group, working with architectural firm Aedifica, has completed renovations on its flagship location in downtown Montréal. Intended to reimagine the space for the modern world without sacrificing its historic elements, the revamp has added a number of new features to the 715-m2 (7700-sf) store.
"Our Birks collections of fine jewellery, gifts, and engagement rings are featured prominently in the new flagship space," said Eva Hartling, chief marketing officer for Birks Group. "With new displays that allow customers to browse at their own pace, we now offer a comfortable and casual shopping concept in line with our target clientele of women self-purchasers as well as fine jewellery connoisseurs and international timepiece aficionados."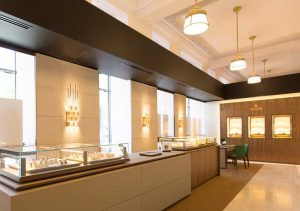 In addition to Birks pieces, the store now has space to showcase fine jewellery and timepiece brands such as Chaumet, Van Cleef & Arpels, Rolex, and Breitling. Other new features include a Birks Bridal Bar to serve customers seeking wedding jewellery, a Birks Concierge Station where custom consults can occur, and a Birks Lounge featuring a coffee station, books, and heritage pieces for perusal.
Esthetic elements have also been updated—the new space incorporates more natural light and less dark colours.