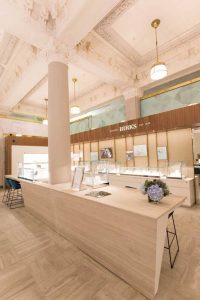 Canadian jewellery brand Birks has come out on top in a global competition evaluating brands' efforts and achievements. The Montréal-based company was named Brand of the Year in the retail jewellery category at the 2018 World Branding Awards, during a ceremony held at New York City's Plaza Hotel on July 19.
"As one of the biggest events for brands around the world, it is truly an honour to be nominated for such a prominent award," said Jean-Christophe Bédos, Birks' CEO. "This award is true testament of the hard work our team has put into our brand development. We are thrilled with the response we have received and we look forward to growing the success of Birks moving forward."
In this competition, which is co-ordinated by the United Kingdom's World Branding Forum, nominated brands are financially assessed by the organizer's research team. This information is taken into account alongside the results of a public online vote and consumer market research conducted in multiple countries.
Birks is one of 245 winners selected from among more than 3000 nominees. It highlights its latest advertising campaign (which targets self-purchasing women through messages of female empowerment and the symbolism of jewellery) as a contributing factor to this success.
"As we continue to deliver on our strategic objective of growing the Birks brand into a global reference, a focus on the launch of our new collections is underway with a continual emphasis on the self-purchasing female consumer," said Eva Hartling, the company's chief marketing officer (CMO) and vice-president of brand management. "We are delighted to see the positive response from consumers so far, including through the Brand of the Year Award."