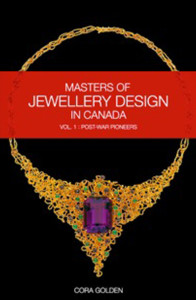 A new e-book takes a closer look at 25 master Canadian designers and ateliers.
Masters of Jewellery Design in Canada by Cora Golden includes more than 220 photographs of rarely seen jewellery created between 1950 and 2000, including award-winning and museum pieces, as well as jewellery designed for the Princess of Wales and Pope John Paul II.
The e-book is the first of a two-volume series and is available on iTunes. A physical book is expected to be published in the fall of 2014.