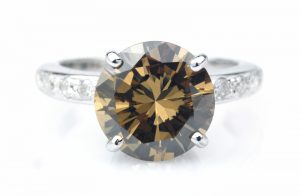 The nonprofit American Gem Society (AGS) Laboratories has announced an expansion to its diamond grading capabilities. It will now grade brown diamonds as well as their white counterparts, which it has worked with since its founding 22 years ago.
"We decided to embark on the grading of brown diamonds because there was a need in the market," said Jason Quick, laboratory director for the organization. "Brown diamonds are beautiful and are gaining traction as an accessible entry point for fancy colour diamonds."
With this service comes the addition of a Colored Diamond Document, which provides technical details pertaining to fancy colour diamond grading. In a release, AGS Laboratories explained this visually supported document is intended to offer an approachable format navigable by retailers, suppliers, and consumers.
To view a sample report and learn more about the document, click here.