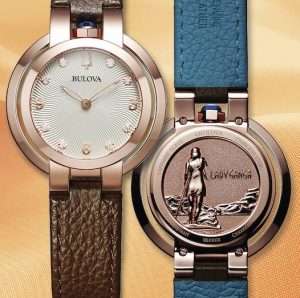 In collaboration with the American Cancer Society and the Global Film Fund, watch brand Bulova has introduced a new timepiece that not only keeps wearers punctual, but also helps fight cervical cancer. The company will donate 10 per cent of each sale of its special edition 'Lady Ganga' timepiece to the American Cancer Society, an organization whose efforts have contributed to a 25 per cent decline in the U.S. cancer death rate since 1991.
Cervical cancer proves fatal to more than 270,000 women annually. The Lady Ganga timepiece reflects the story of one such woman: Michele Baldwin, a 45-year-old sufferer of the disease who travelled to India to stand-up paddleboard more than 1126 km (700 mi) down the Ganges River. This record-breaking journey spread awareness about the disease, inspiring vulnerable women to get screened for it.
"Michele Baldwin's story is truly inspiring and organically aligns with Bulova's passion to support and empower femininity," said Robert Christiano, executive vice president of marketing at Bulova. "The special edition 'Lady Ganga' timepiece from our latest Rubaiyat collection pays homage to women everywhere, as the collection itself is the reinvention of our first-ever women's timepiece that was launched over a century ago."
The timepiece features a blue spinel cabochon crown at the 12 o'clock position, as well as eight hand-set diamonds on a textured silver-white dial with curved sapphire crystal. Other highlights include its rose gold-tone stainless steel case, teal-lined brown leather strap, and dye-struck custom case back.