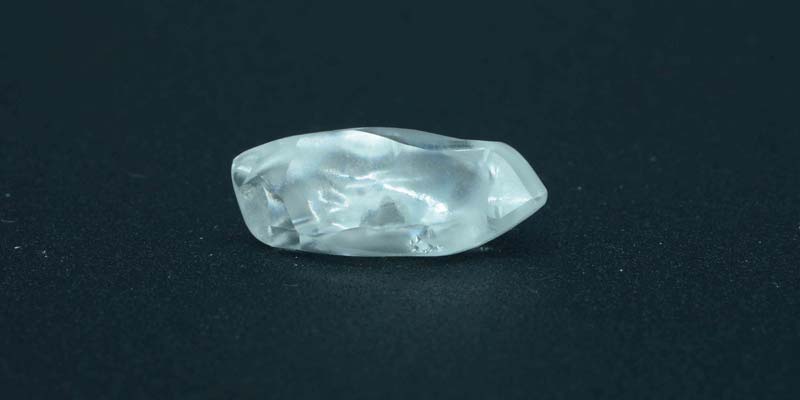 By Jacquie De Almeida
Master diamond cutter Mike Botha has worked on some pretty big stones in his 45-year career.
But when he sits down to cut the 8.52-carat 'Esperanza' at Stanley Jewelers Gemologist in North Little Rock, Ark., next month, it'll be perfection of symmetry that will challenge the master diamond cutter.
The stone—one of the largest ever to come out of the ground at Arkansas Crater of Diamonds State Park—was found in late June by Bobbie Oskarson, who was visiting the mine from Colorado. She named it 'Esperanza,' meaning 'hope' in Spanish. And now Botha's hope is his custom design for a 147-facet 'triolette' will maximize the stone's potential. When he's done, he expects to yield a five-carat-plus sparkler from the rough.
"We are being led by the shape of the rough," says Botha, chief executive officer (CEO) of Embee Diamonds, a cutting and polishing atelier in Prince Albert, Sask. "It will basically look like a briolette, but it is going to be elongated and resemble a teardrop. The cut is a composite of emerald and trapezoid, going down in steps and tapering toward the point. One side will have acute angles and the other a little more obtuse. The step cut is very difficult to execute because we have to do it to absolute precision."
Since its discovery, which happened less than half an hour into Oskarson's search, the diamond has been determined by AGS Laboratories to be a Type IIa, which in itself is an extremely rare find. American Gem Registry examined the stone initially, but the final analysis by AGS Labs is expected to show Esperanza is colourless and of very high clarity, says Botha's son, Evert.
It was last September that Botha and Stanley Jewelers hosted a group tour of the park where participants tried their luck at digging for diamonds in the world's only public diamond mine. Visitors are allowed to keep anything they find.
When news broke Oskarson had found Esperanza, Evert contacted Laura Stanley, vice-president of Stanley Jewelers, to try to track the woman down, hoping they could collaborate in some way. Meanwhile, Oskarson had reached out to Neil Beaty, a gemmologist based in Denver where she lives. Embee, Stanley Jewelers, and Oskarson have since formed a consortium, along with an investor, who wishes to remain anonymous.
And now Botha is getting ready to ship his bench to Stanley Jewelers where he will cut the diamond to 90 per cent at an in-store event from Sept. 9 to 12, allowing Esperanza to retain its 'Made in America' provenance. After that, he will either finish it at his home base in Prince Albert or at another cutting facility in the United States. It will then go to AGS Laboratories for a final diamond grading report.
Stanley says she's had people come into her store over the years with pebble-like brown diamonds they've found at the mine. "Esperanza is obviously the exception to that rule," she adds. "When you tell lay people about it, I don't think they understand how really spectacular and special it is."
Stanley said she's had inquiries from regulars at the mine to watch the stone being cut. "The provenance of this stone is pretty exciting and patriotic," she says. "I'm proud we've been able to get this whole plan together and keep it in the United States. With all the photographs and scans done of the diamond, Mike was able to 'see' it in Canada before he could see it in person. I think it's pretty amazing that technology allows us to be able to do this. Twenty years ago, none of this could have happened without Mike seeing it first and then deciding how it should be cut."
Once he is done cutting it, Esperanza will be set into a pendant created by U.S. designer Erica Courtney. She flew to AGS Labs last month to get a look at it for itself. "I wanted to see it with my own eyes more than anything before it got cut," Courtney says. "When you turn it a little bit, it's like a light goes back and forth inside. It's almost like there's a heart and soul to the diamond. It really does glow and that's partly because it's so white."
Courtney says the design process will be a little unusual for her this time. Typically, she picks a gemstone based on how it inspires her. With Esperanza, she says she will hold off until she sees the cut stone to put pencil to paper.
"I usually wait for the gemstone to 'whisper' to me," she explains. "I have so many ideas for a design, but the gemstone needs to focus and tell me what it wants to be." When she finally does see the cut stone, Courtney says she will be in Sri Lanka, Bangkok, or Hong Kong. "I've never had a gemstone 'whisper' to me over Skype, but that just might happen," she adds.
If no one buys the loose diamond outright, Evert says the finished piece will go on auction in December through Heritage Auctions. "It's a spectacular, one-of-a-kind piece and we know it's going to get a decent price due to the fact it will be cut and polished in Arkansas and maintain its provenance," he says, adding everyone involved with the project is an AGS member.
"We want this to be a feel-good story, especially given the status of the industry as a whole where there has been a lot of negative publicity," Evert says. "We hope this story will appeal to a segment of the market through the technical approach we're taking. Maybe they will see not each diamond is the same and there are different approaches to cutting and polishing diamonds, as well as different approaches to designing jewellery."