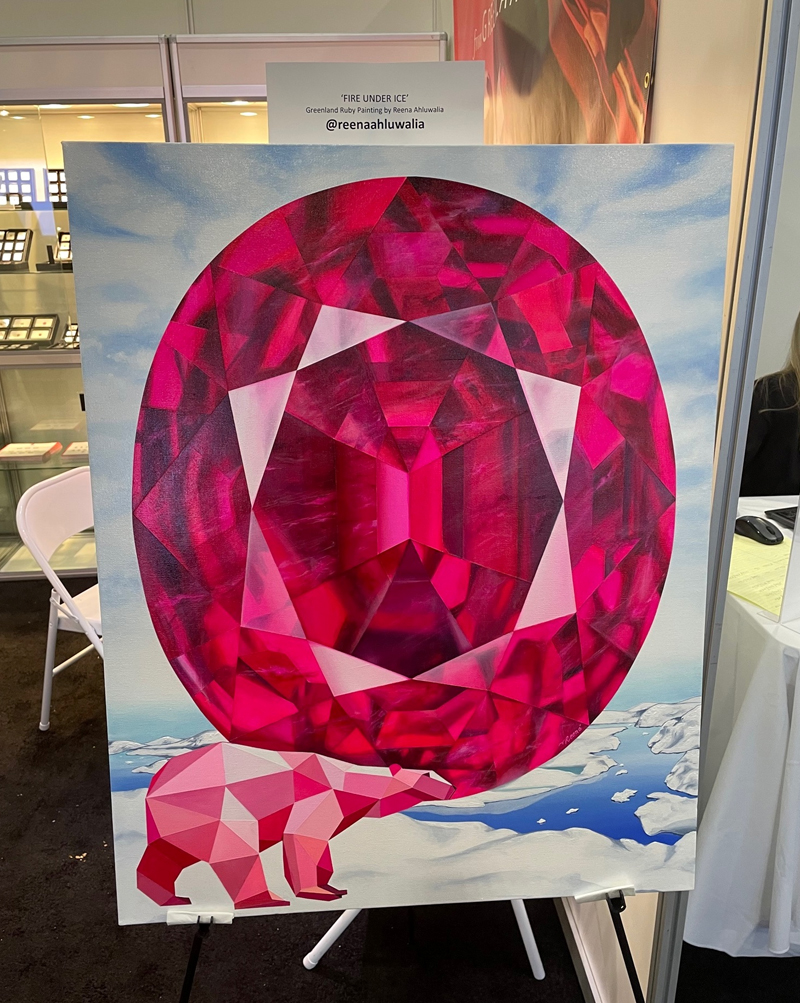 Attendees of last week's JCK show in Las Vegas were privy to a first-hand viewing of Toronto-based jewellery designer and artist Reena Ahluwalia's 'Fire and Ice' painting.
The hyper-realistic creation was displayed at Greenland Ruby's booth. It is being raffled in support of the PinkPolarBear Foundation, a Greenland Ruby initiative focused on supporting international polar research in all disciplines and protecting inhabitants of Greenland affected by climate change.
Valued at $10,000, the custom-made, hand-painted canvas was donated by Ahluwalia in celebration of the mining group's five-year anniversary. In addition to one recipient receiving the physical painting, the fundraiser is 'phygital,' representing a first-of-its-kind within the gem and jewellery world. Only 500 raffle tickets will be available, and each donor will receive a limited-edition animated NFT of Ahluwalia's painting.
"At its heart, my painting conveys the beauty of our natural world," Ahluwalia says. "I hope my artwork and NFT will remind donors of the significant contribution they made and keep inspiring everyone to protect and nurture our environment and inhabitants."
Inspired by the three-billion-year journey of the Greenlandic gems, the artwork and limited-edition NFT bring together technology, innovation, and the beauty of nature, Greenland Ruby says.
"As part of our anniversary celebration, we're thrilled to be able to make such a grand contribution to the PinkPolarBear Foundation, with a campaign both original and innovative," says the company's chief commercial officer, Hayley Henning. "The original artwork on canvas, with 500 digital art NFTs, is a spectacular contribution from Reena, and we thank her for her incredible talent and generosity in making a tangible impact."
Tickets are available until September 2022. Donors will receive the animated NFT within 15 days of sharing their Crypto Wallet address. The recipient of Ahluwalia's painting will be announced in end-September. For more, click here.