By Jacquie De Almeida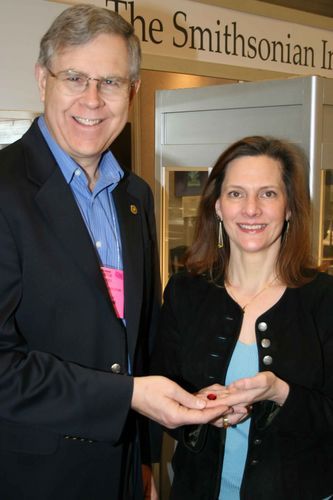 Lisa Elser is going to Washington. Well, at least her award-winning 14.24-carat red tourmaline is.
The Vancouver-based cutter—one half of Custom Cut Gems—placed third at the 2013 American Gem Trade Association's (AGTA's) Cutting Edge Awards in the 'All Other Faceted' category. And now the oval-cut stone is heading south of the border to be added to the Smithsonian's permanent gem and mineral collection.
It's a milestone in a career that almost didn't happen, given Elser spent 25 years working in IT for companies like Bell Laboratories, NCR, and Sun Microsystems.
Trained as a cutter in Switzerland, Elser spent several years cutting as a hobby before leaving the IT world behind and starting up Custom Cut Gems with her husband, C. Tom Schlegel. The couple specializes in one-of-a-kind gemstones, and travel to buy rough at the source, donating part of their profits to support economic development in gem-producing countries.
A research mathematician, Schlegel designed a cut specifically for the Nigerian tourmaline. "Two years ago, I was offered the chance to buy a collection of rough material from a friend who was retiring," Elser says. "Among the amazing stones was a partially preformed rubellite tourmaline that I loved as soon as I saw it. The piece was 49 carats and roughly oval-shaped, but shallower than I would have liked."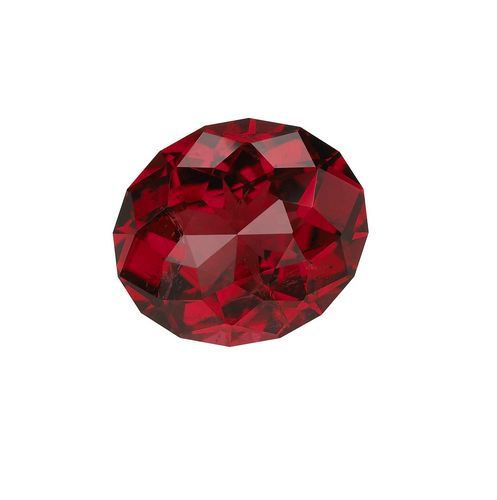 Regulars among the Spectrum Awards competition scene, Elser and Schlegel collaborate every year on a design for a particular gem.
"This was clearly our choice for this year, so Tom designed and I prototyped a number of options to get the best return and best performance," says Elser of the tourmaline.
"It finished at 14.24 carats and is bright red. The apex design maximized performance and gave us a unique cut."
So what does Elser think about her work becoming part of a collection that includes more than 10,000 gems, 350,000 mineral specimens, and the likes of the Hope Diamond and the Dom Pedro Aquamarine?
"Winning my first Spectrum Award was a huge honour, and then having the piece accepted into the permanent collection of the Smithsonian is beyond what we could have imagined. Tom and I are thrilled to see this gem in the permanent collection."