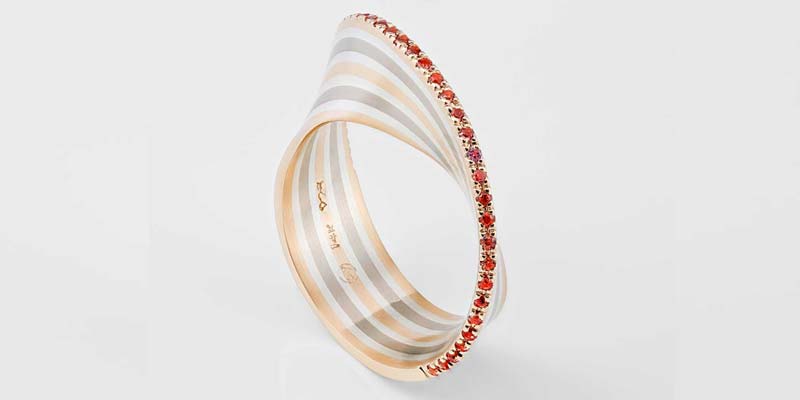 Two Canadians are among the winners of the 19th annual Saul Bell Design Awards.
Pierre-Yves Paquette, who is based in Saint-Jerome, Que., took top honours in the gold/platinum category for his 'Moebius No.1' design, which he created using mokume gane technique.
"Mostly I work with simple shapes and the various uses of metals, which led me to mokume gane in the first place," Paquette said of his inspiration for the piece. "I love the simplicity of German styles. Combining that style with different colours and simple shapes is my goal. It's challenging. Placing the material at the forefront is important to me, so I use simple geometric shapes."
Meanwhile, Ezra Satok-Wolman of Caledon, Ont., was runner-up in the alternative metals/materials category. His piece, 'The Torus Bracelet for an Astronaut,' took inspiration from "space-age technologies, materials, and concepts" and is comprised of titanium, stainless steel springs, and 18-karat gold rivets.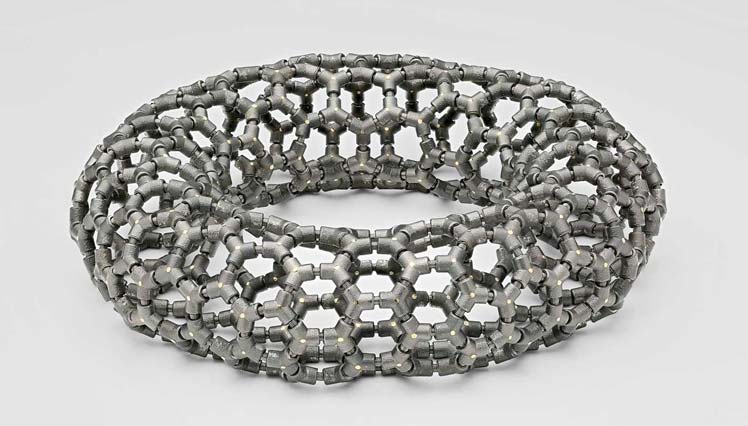 "I started by designing a universal component I could use to create a system for building flexible, customizable, geometric structures that could be compressed and self-deploy, while also having the ability to stretch and adapt to the human body," Satok-Wolman said of the bracelet.
The international competition saw hundreds of entries from designers around the world. Submissions in nine different categories were evaluated by a panel of industry experts in a two-stage judging process.
"Rio Grande thanks all of the artists who submitted their work, as well as the judges who carefully evaluated their submissions," Rio Grande said in a statement. "We congratulate each of the winners and finalists whose work rose to a level of craftsmanship and creativity that, as always, is breathtaking."
To see the complete list of winners, click here.