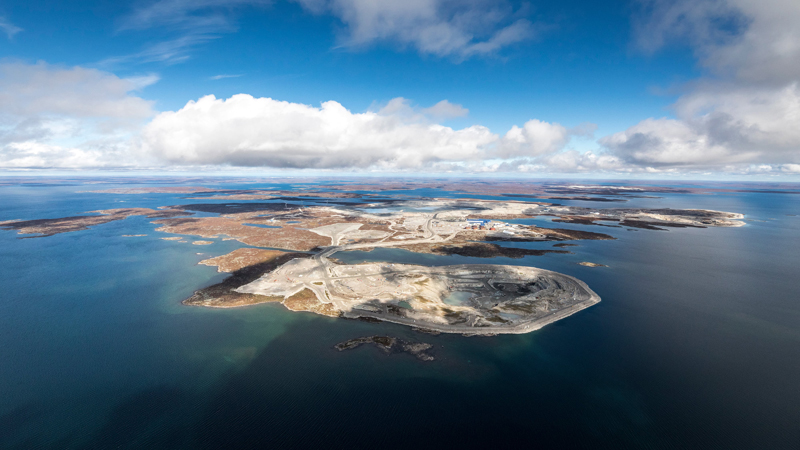 Three companies mining for diamonds in the Northwest Territories have confirmed they do not have ties with Russia and have pledged support for Ukraine.
This is according to CBC News, which spoke to the operators of Diavik, Gahcho Kué, and Ekati diamond mines in the Northwest Territories (NWT).
The companies—Rio Tinto, De Beers Group, and Arctic Canadian Diamond Company, respectively—each stated their operations in the territory have not been impacted by Russia's invasion of Ukraine on Feb. 24.
Diavik-operator Rio Tinto confirmed the mine itself does not have operations or team members in either Russia or Ukraine. Earlier this month, the global mining group, which has mining infrastructure, sales offices, and research labs in about 35 countries, announced it had cut all commercial relationships with Russian businesses.
Rio Tinto is donating US$5 million to humanitarian agencies helping people who are impacted or fleeing the conflict, CBC News reports.
Likewise, De Beers Group, the operator of the Gahcho Kué diamond mine in the Northwest Territories, reports its operations in the Great White North have not been interrupted. The group, which only mines diamonds in Botswana, Namibia, South Africa, and Canada, has donated US$1 million in support of Ukraine.
"De Beers Group has been shocked by the violence in Ukraine and inspired by the bravery of its people," the company said in a statement.
Additionally, De Beers' parent company, Anglo American, has pledged US$5 million to relief efforts.
"First and foremost, our thoughts are with the people of Ukraine, and we all want a rapid and peaceful resolution and an immediate end to loss of life," says chief executive, Mark Cutifani. "In recognition of the unfolding horror in Ukraine and in support of those amongst our employees who have family and friends affected, the Anglo American Foundation will be making a donation of US$5 million to one or more charities involved in providing humanitarian relief in Ukraine."
Finally, Arctic Canadian Diamond Company (ACDC), which operates the Ekati Diamond Mine, has confirmed it does not have any ties with Russia, adding that its sales and marketing are done out of Belgium. The company says it is arranging a donation in support of Ukraine but has not specified an amount.
"Arctic condemns the Russian invasion of Ukraine in the strongest terms," ACDC's president and CEO, Rory Moore, tells CBC News. "We view Ukraine as a sovereign nation with a democratically elected government and support Ukrainians in defending their freedom against the tyranny of Vladimir Putin."
For more on this story, visit CBC News.