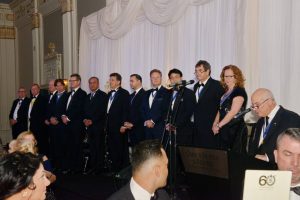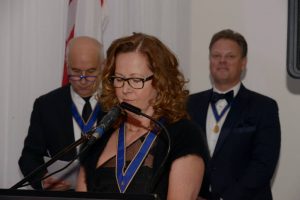 Canadian jewellery professionals met for a glittering soirée on Saturday, October 28, as the Canadian Jewellers 24 Karat Club held its Diamond Anniversary Gala. Club members and their guests celebrated the group's 60th year by bringing sparkle to the newly reopened Crystal Ballroom at Toronto's prestigious Omni King Edward Hotel.
Attendees had the opportunity to mingle with old friends and new at a cocktail reception before enjoying dinner and the introduction of the year's new executive board.
"I would like to see the club grow with industry people that are eager to support and participate. We have a lot of great people in the club, and I am excited to work with them and encourage them to bring in new members," said incoming president Beth Saunders.
Further, Ernest D. Epp received the Golden Putter Award.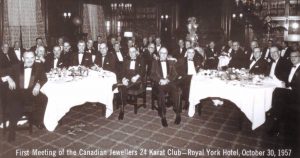 The Canadian Jewellers 24 Karat Club's invitation-only membership spans the country. The club has striven to unite members, retailers, and suppliers in a social setting since its formation in 1957—and at this year's gala, it offered a taste of '50s nostalgia with the musical stylings of Elvis impersonator Matt Cage, whose whirlwind of songs and fashions had the audience all shook up.
The club's annual general meeting (AGM) was also held October 28, and new members Hossam Antoun, Luca Bernasconi, and John Gennaro were inducted. The 2018 executive board was named at that time, with the following members taking up the mantle:
Beth Saunders, president;
R. Scott Rutledge, vice-president;
Paul K. Kwong, treasurer; and