By Jacquie De Almeida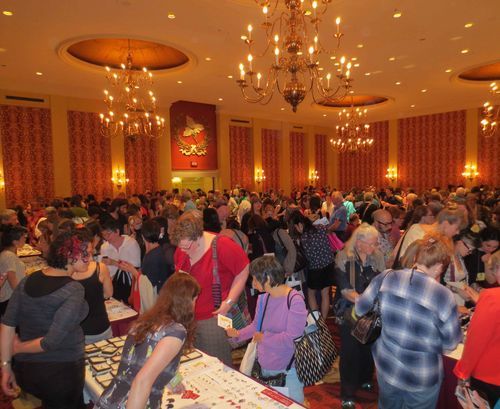 Designer Pasha Moezzi isn't one to throw his weight around, except when it comes to the hefty brass jewellery he brought with him to a trunk show at Toronto's Fairmont Royal York Hotel.
"People like the heavy industrial feel to the jewellery and they don't like to pay a lot of money for it," he tells Jewellery Business, referring to a notched brass cuff in his hand. "If you wanted to make this out of gold, it would cost thousands."
Brass is Moezzi's material of choice, partly because he grew up around it—his father designs and makes furniture using the base metal.
"It also allows me to stay away from the materialistic value of jewellery and focus more on design."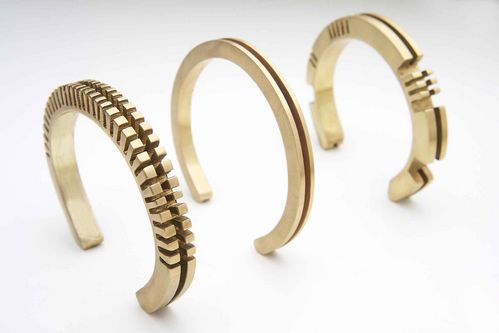 The George Brown College student was one of about 50 designers participating at the Society of North American Goldsmiths' (SNAG's) trunk show, a highlight of a three-day conference that brought jewellers from across North America to the Big Smoke.
It was the first time in 30 years the event—named Meta-Mosaic—had been held in Canada. About 1200 local and international jewellers were expected to attend the conference. (Final numbers were not available at press time.)
Held in conjunction with the Toronto International Jewellery Festival (TIJF), the conference shone the spotlight on jewellery and metal arts.
Master goldsmith Charles Lewton-Brain says that although events like SNAG and TIJF bring the jewellery and metal arts scene together, more needs to be done to create greater exposure among those outside it.
"We need to convince more jewellers to place images in mainstream magazines," he explains. "Mind you, there is some reluctance on the part of consumer media to listen to that, but we need to get our images out there into the broader public spaces and places and make them understand the reality of our scene. Glass and ceramics did it 20 years ago, and that's our job now."
Jeweller and silversmith Charles Funnell agrees.
"We still seem to be ignored in the larger media," Funnell says. "We really need to keep this momentum and enthusiasm building. I hope through all the extraordinary efforts of so many individuals, galleries, and organizations that our profile in this city has probably never been higher and that people go out and see these multitude of exhibitions and realize how much wonderful and varied work is being made right here in our own backyard"¦. We need to get Canadians out of Cartier."
Goldsmith and jewellery designer Emily Gill says presentation is everything when trying to create interest.
"I think we need to start showing higher price point designs in more shows," she says. "It's hard for me to lower my price points for one-offs, but I will keep showing those pieces with some production work to educate people about the time and effort it takes to do the work. It always goes back to telling the story behind the piece. This gives it value."
The Pin Ball held at the Gladstone Hotel earlier in May helped kick off the month-long TIJF. It was a culmination of three years' work and an event that brought out a who's who of local designers and media.
Paul McClure, TIJF co-founder and professor of jewellery studies at George Brown College, says the 30-venue festival comprising 40 exhibitions has been a labour of love for all involved. (Jewellery Business is the festival's official media partner.)
Although TIJF is expected to be held every two years, McClure says he'd like to see it grow and become more inclusive to the local jewellery community, as well as garner more funding. In total, the provincial and federal arts councils donated $17,000 and $7000, respectively.
More industry involvement is also necessary, he stresses.
"Getting retailers and manufacturers involved is what is really going to make the festival work," McClure says. "We would like to make May the month of jewellery, and get rid of the divide between the different types of jewellery. Part of it is the creative community that sort of frowns on the manufactured product coming from industry, but also the other side is industry and retailers looking at art jewellery as being too far out there. We should be united."
Lisa Wohrle, associate officer for visual arts and crafts programs for Ontario Arts Council, says promoting Ontario and Toronto artists in the context of an international conference was an easy decision to make.
"There are really limited opportunities for these kinds of exhibitions," she explains. "They take place so rarely, so a project like this that brings the public's attention to the work of local artists is very important."
The conference and festival are two opportunities to highlight not only established artists, but also student designers, a segment of the industry the Canadian Jewellers Association (CJA) is hoping to become more involved with.
"It's important for us to not only look to the students and at what they can provide for the future, but also inform them about what's going on in the industry, what we can do with them and for them to expand their horizons, as well as expand our knowledge about what they can offer," said CJA president and chief executive officer (CEO), David Ritter.
Noura Sakkijha, co-founder of online jewellery platform, Mejuri, says getting the word out on Canadian designers is a major struggle, which is why the company is working with Canadian schools to help launch competitions.
"We think it's important for Canadian jewellery design students to get feedback from consumers before they graduate so they understand what resonates with the buying public," says Sakkijha, whose company co-sponsored the Pin Ball.
Local events like TIJF and SNAG help promote not just Canadian designers, but Canadian diamonds, says Robert Cheszes, president of Diamond Industry of Canada. It was one of the main reasons why the company sponsored the Pin Ball through the donation of a .50-carat Maximum Brilliance Canadian diamond to be raffled off. The recent sale of the Ekati mine put Canadian diamonds back into the spotlight. Still, more needs to be done.
"We need a bigger push of Canadian diamonds on the world stage," he explains. "The government takes interest in promoting other industries, but the fact is we are new and just coming together as a unified voice. I think there has to be that support to take it to the next level."