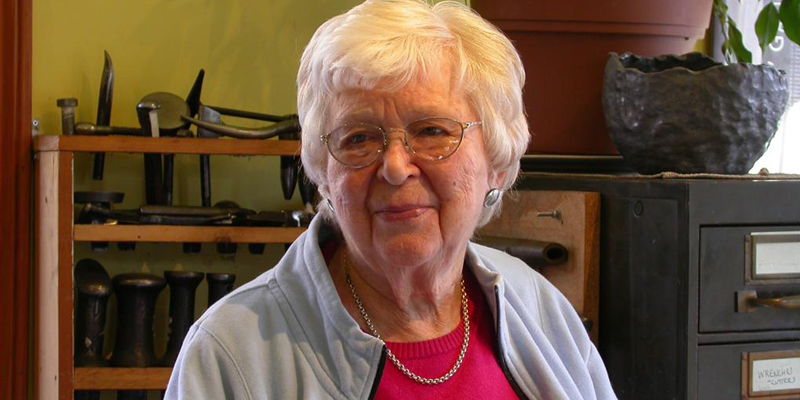 The Society of North American Goldsmiths (SNAG) has presented Canadian silversmith Lois Etherington Betteridge with a lifetime achievement award.
A member of the Order of Canada and recipient of the Queen's Golden Jubilee medal, Betteridge says this award is especially close to her heart.
"I think it's marvelous they recognized a Canadian," Betteridge told Jewellery Business. "I feel it's a real achievement to have received it."
Based in Guelph, Ont., Betteridge is known for her hollowware, silver, and jewellery, as well as her longstanding contribution to teaching her trade.
Born in 1928 in Drummondville, Que., Betteridge has worked as a studio artist since the early 1950s. After graduating from the Ontario College of Art, she continued her studies in the United States, earning a bachelor of fine arts from the University of Kansas in 1951 and a master of fine arts five years later from Michigan's Cranbrook Academy of Art.
Her first teaching position was at Ryerson Institute of Technology in 1952. Two years later, she became a lecturer at the Macdonald Institute in Guelph, where she taught metalsmithing, weaving, and design. In addition to training and apprenticing students at her studio, she is also a visiting artist at the Nova Scotia College of Art and Design (NSCAD), the Ontario College of Art and Design (OCAD), and the New Brunswick School of Art.
Betteridge says putting on workshops and exhibitions outside Canada is vital to raising the profile of Canadian jewellers and designers.
"We tend to be very happy to be where we are," she added. "But the rest of the world is out there and we have to become more and more involved."
SNAG presented the award to Betteridge at its Going to eXtremes conference in Houston, Tex., last month and dedicated the event to her.