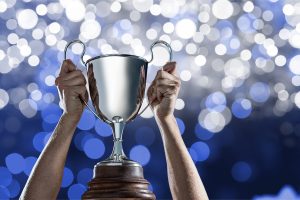 Four Canadian jewellery students will have something to celebrate when the Canadian Gemmological Association's (CGA's) Gem Conference kicks off later this month. The group has announced three winners and one honourable mention for its first-ever Emerging Artist Design Competition, all of whom will be recognized at a gala during the event.
First place, along with a prize of $1000, went to Yiwei Zhang of George Brown College for a collar necklace called 'Sprout Spring.' Two Vancouver Community College students took second and third place, with Jackie Zheng winning $500 for his 'Autumn Melody' bracelet and Alexandro Gage earning $250 for the 'After Picasso' pendant. Ontario College of Art and Design (OCAD) University's Charlize Nhung also received an honourable mention for  her necklace, 'Element of Canada.'
"These are fantastic examples of Canadian talent and design excellence," said Donna Hawrelko, president of CGA. "The future of Canadian gemmology and jewellery is definitely in the capable hands of these industry innovators."
Scheduled to run October 19 to 21 in Vancouver, the Gem Conference is the largest gem and jewellery event in the country, and organizers expect this edition (which commemorates CGA's 60th anniversary) to be completely sold out.
"Congratulations to all our winners and to those who submitted an entry," said Hawrelko. "There were so many fine submissions that showed promise and genius."