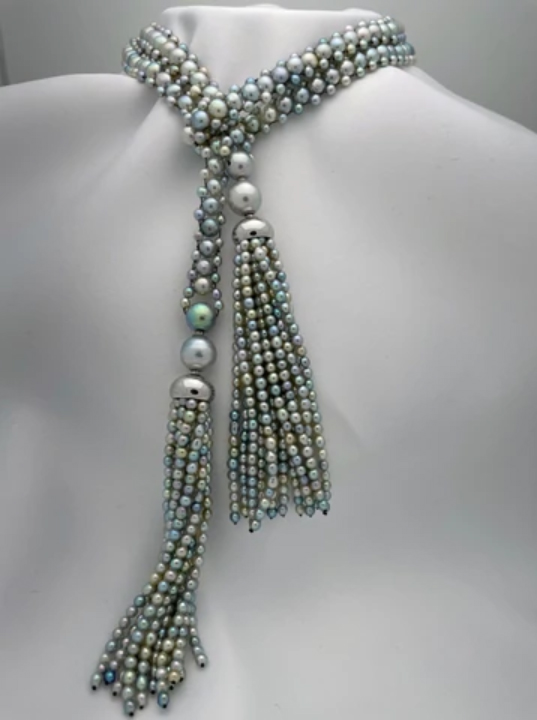 A familiar face is among the recipients of the Cultured Pearl Association of America's (CPAA's) 12th annual International Pearl Design Competition (IPDC).
Jewellery Business columnist Llyn Strelau picked up the Visionary Award for Classic Styles for his 'Rhapsody in Blue' sautoir. The prize, CPAA says, is given to the entry that redefines the iconic pearl strand and shifts the perception of cultured pearls for today's buyer.
Strelau's hand-woven necklace features naturally coloured Vietnamese-origin blue and blue-green Akoya pearls (2.5 to 8 mm), along with a patented 18-karat white gold interCHANGE clasp and gold-capped tassels. The piece can be worn in many ways, including a single strand with an overhand knot at the front or wrapped several times around the neck.
For this year's competition, judges Jean Francois Bibet, workshop and production director at Cartier, and Patricia Faber, co-owner of Aaron Faber Gallery in Manhattan, inspected 35 images and renderings of submissions. Eight winners were ultimately chosen across seven categories, with one individual earning two awards.
The other winners at IPDC are:
President's Trophy—'Nebula' brooch by Stasia Parker of the United Kingdom. The award represents the highest honour given to a design that unanimously captivated the judges as 'the best of the best.' This piece also won the Spotlight Award, which focuses on designs where 75 per cent of the design features natural-colour blue Akoya pearl.
Luster Award—'Foam and Pearls' earrings by Chamal Jayaratna of Sri Lanka. The honour is given to the entry judged most marketable of all entries in the competition. This design will have the most overall appeal for the retail marketplace.
Orient Award—'Splash Double Finger Ring' by Subhankar Das of Amit J. Ghosh of Dubai. The award is given to the entry that would inspire a newfound affinity for cultured pearls.
Wedding Day Pearls—'The Dawn' necklace by Hanna Korhonen of Finland. This piece best captures what a contemporary bride might wear on her wedding day.
Fashion Award—shared by 'Temptation Earrings' by Lijun Jiang of Huale Jewelry in China and 'The Reversible Dice' pendant by Millie Ho from Hong Kong. These pieces feature a creative compilation of materials fashioned into youthful, high-fashion, and original pearl jewellery designs that look as if they came straight from a Paris runway.
See photos of the international winners here.
CPAA also announced the winners of its U.S. division. To see these designs, click here.