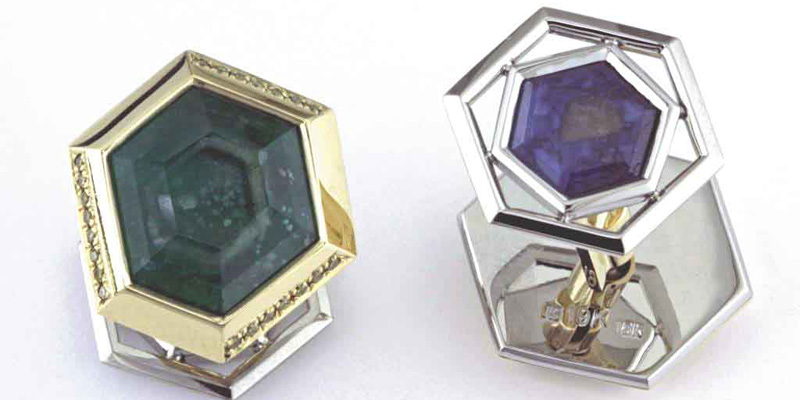 The winners of the 2014 AGTA Spectrum Awards have been announced, and two Canadians are among them.
Llyn Strelau of Jewels by Design in Calgary came in second in the Men's Wear category with his 18-karat yellow and 19-karat white gold 'HEXactly' cufflinks. The design features emerald slices (11.80 ctw) accented with blue sapphires (1.0 ctw) and diamonds (.25 ctw).
Gregore Morin of Santa Barbara, Calif.- based Gregore Joailliers picked up third place in the Business/Day Wear category. His 18-karat white gold 'Spring Time' earrings feature jade (24.20 ctw), carved lemon chrysoprase (17.80 ctw), and diamonds (.32 ctw).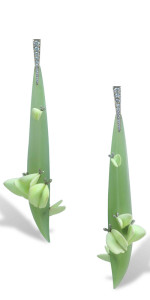 Now in its 30th year, the Spectrum Awards celebrate the use of gemstones in several categories, including Bridal, Business/Day Wear, and Classical. Entries are judged on the basis of overall beauty and wearability, innovative design, and effective use of materials. The quality of gemstones and workmanship, consumer appeal, and the ability to create a positive impression of natural coloured gemstones are also part of the judging process. Â 
Judges for the 2014 competition were retailer Jennifer McCurry from Marissa Collections, fashion and beauty editor, Jennie Ma, from The Knot, jewellery designer Barbara Heinrich from Barbara Heinrich Studio, lapidarist John Hatleberg, and manufacturer Jose Hess.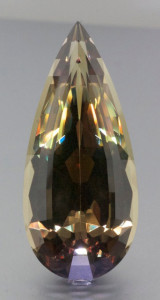 For full coverage of the 2014 AGTA Spectrum Awards, see the February issue of Jewellery Business.
In related news, the AGTA also announced winners of its Cutting Edge Awards. Gem cutter Ralph Wobito of Stouffville, Ont., won second place in the Phenomenal Gemstones category for an 88.49-carat colour-change Csarite from the Courtney Collection.