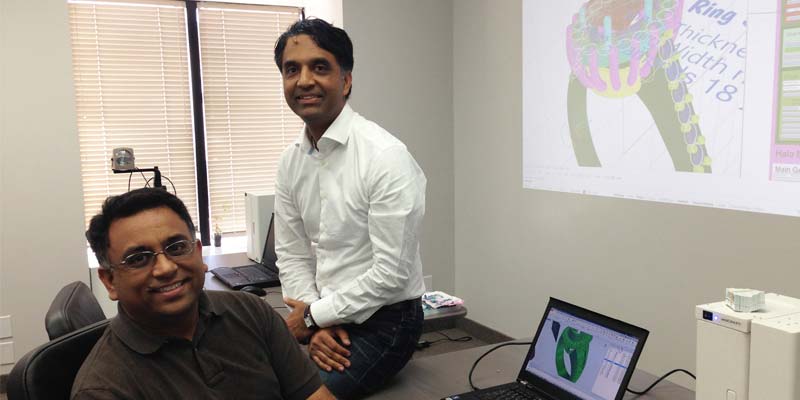 What do R2-D2, dentures, and a halo ring have in common?
At Creative CADworks, they are just a few examples of the moulds it has grown in a 3-D printer using a resin developed in-house.
The variety amongst the objects is due to the fact the Toronto-based company—headed by brothers, Hemdeep and Kamal Patel—are expanding their CAD/CAM business into other industries, dentistry being one of them. The beloved Star Wars character? Well, that's one of the moulds grown recently by a student at Creative CADworks Academy, a collaboration with the Toronto District School Board (TDSB). The program teaches students the basics of CAD design and how to build simple objects, skills the brothers say will be invaluable in the future.
Although their background is in gemstones—their father founded Ujas Gemport Ltd., a coloured stone wholesale supplier and they established HKD Lab, a diamond grading firm—Hemdeep and Kamal saw manufacturing heading in a very high-tech direction, so they decided to do the same. In 2009, the brothers started Creative CADworks, which is now the North American distributor of MiiCraft 3-D printers and authorized re-sellers of RhinoGold.
"As we started exploring CAD/CAM, we found this really fit our need to grow a business fairly quickly," explains Hemdeep at the grand opening of the company's new space in the heart of Toronto's jewellery district. "We've always been the kind of people to chase things down."
The growth in the business is partly due to an increase in the demand among jewellery retailers to bring manufacturing in house, but also in the use of 3-D printing in other applications. Microfluidics, the science of designing and manufacturing devices as small as a micrometre, about a thousand times smaller than a millimetre, is another avenue Creative CADworks is exploring.
"We've seen a lot more growth with CAD/CAM in the last year than in our first six years," Hemdeep notes. "We find some printers are coming to market at a much lower price point, which, for our industry, makes it more affordable for jewellery retailers to create their own 3-D moulds."
These days, consumers are looking for something more unique than what might be stocked in showcases, which is one reason why jewellers are taking a closer look at 3-D printers, Hemdeep says.
"The number of moulds they are printing in-house has increased exponentially," he explains. "When you're creating your own private label brand, you control manufacturing costs. And if the retailer is very good, they can sell their private label as an upscale brand."
While some in the industry avoid CAD/CAM, seeing it as a betrayal of the traditional way of making jewellery, others feel intimidated by technology. Either way, the brothers have set out to change those perceptions, starting with training sessions that highlight CAD's evolution over the years. Rather than building parts from scratch, for instance, some software is stocked with prebuilt parts that can be manipulated on-screen using sliders.
"Jewellers are ahead of the game," Hemdeep says. "There is no other industry where CAD design is at the countertop. In terms of CAD, I don't see a ceiling at all."