By Jacquie De Almeida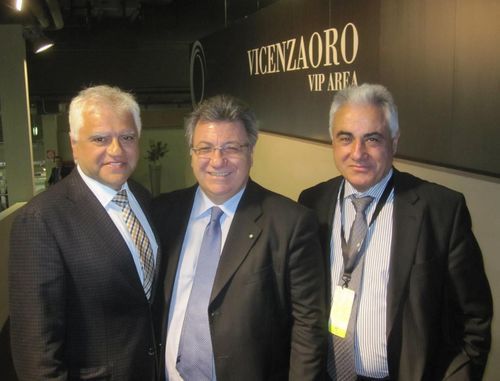 Armenian jewellers are primed and eager to join the global discussion on promoting co-operation throughout the jewellery community.
That's the message from Artak Udumyan, executive director of the Armenian Jewellers Association (AJA).
"We are part of the worldwide jewellery community," Udumyan told Jewellery Business in an exclusive interview from the aisles of the VicenzaOro fair last month.
"It's very important that we're not a narrow or local association, but to be a part of the global jewellery community and to co-operate with that community to change opinions and influence one another positively."
Like the 'Made in Italy' brand, the Armenian jewellery community is relying on its reputation to market itself to the rest of the world.
"We have a very strong brand, which is the Armenian jeweller itself, whether as a manufacturer or as a designer," added Udumyan, who is vice-president of Russia-based Estet Jewelry House. "Everyone in jewellery knows Armenians have a very specific, very important, and very recognizable place in the industry. This is our brand."
To help maintain its place within the jewellery industry, the AJA developed an association magazine, revamped its website, became a member of CIBJO, and started its own trade show in Yerevan. It also offered its support to the Young Armenian Jewelers Association (YAJA).
Founded in 2012 by brothers Zaven and Hratch Ghanimian of Simon G. Jewelry and Zeghani by Simon, YAJA works to unite young Armenians in the jewellery industry and help shape the next generation by sharing ideas and networking through various initiatives and events.
"We consider the next generation of Armenian jewellers as very important," Udumyan said. "This generation holds the future of Armenian jewellery, so we are looking to open many [chapters] of YAJA. We recently opened one in Lebanon and we are looking to do the same in Russia. Young Armenians are known to each other around the world. We hope these personal relationships will be transformed into business relationships."
A panelist on VicenzaOro's first-ever international summit on future business trends, Udumyan discussed the challenges of entering the Russian market, particularly for small to mid-sized companies.
"Russia is still in transition," he noted. "It's not the same kind of market as Europe or the United States. Partnerships are very important because partners provide knowledge of the country and other important connections. If you don't want to have a partner, you have to invest a lot of money, maybe $3 million to supply goods, $1 million for offices/logistics, and maybe $1 million for advertising. This is a lot of money for small or medium-sized companies, so a partnership is a very good idea."
For the AJA, the focus right now remains on bringing the Armenian community together to work as a whole in promoting itself.
"The main challenge is creating unity for the success of Armenian jewellers," Udumyan said. "From that, co-operation will strengthen and more success will flow, and the result will be to the advantage of everyone in our community."
Anyone interested in becoming a YAJA member is asked to e-mail Zaven Ghanimian at zaven@simongjewelry.com.