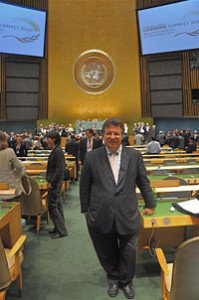 The jewellery industry is a leader in human rights and sustainability, says CIBJO president Gaetano Cavalieri.
 
Speaking after the Leaders Summit of the UN Global Compact held in New York City late last month, Cavalieri said steps taken within the industry served as an example to others.
"It was a fascinating event that provided us with the opportunity to see how corporate social responsibility is being applied in other business sectors," Cavalieri noted. "What I learned was that in many respects, the jewellery sector is ahead of the game, both in terms of mitigating issues concerning human rights, labour relations, and the environment, and also in terms of investing in the economic growth of the communities in which we operate. We have a positive story to tell, and the UN Global Compact Leaders Summit provided that opportunity."
About 2000 global representatives from the business community, civil society, and government gathered for the summit. Established in 2000, the UN Global Compact is a public-private partnership (PPP) working to promote responsible corporate citizenship. CIBJO became a member in 2006.