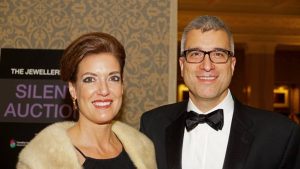 This year, the Canadian Jewellers Association (CJA) turns 100, topping off a century of support for the Canadian jewellery trade. Members of the industry are invited to join in the anniversary festivities at the association's annual Jewellers' Ball this spring.
The 2018 edition of the gala event doubles as a centennial celebration, and will feature a visual tribute to industry milestones that occurred between 1918 and the present day. Until Friday, CJA members can submit photos capturing such significant moments to Gerasil Coria for consideration.
The ball will also honour the winner of the CJA 100th Anniversary Design Contest, which drew necklace designs fitting the theme 'Colours of Spring' from 23 students at eight Canadian schools. In addition to having his or her piece displayed at the Jewellers' Ball, the winner will receive $3000.
The soirée is scheduled for April 28 at Toronto's Art Gallery of Ontario (AGO). A cocktail reception and silent auction will begin at 6 p.m., with dinner and entertainment kicking off at 7:15 p.m. Those interested in attending can contact Carla Adams to RSVP by March 30.