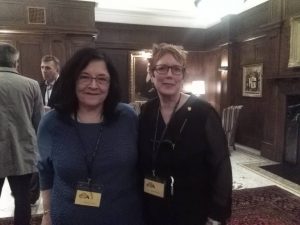 October 20 marked the beginning of this year's Canadian Gemmological Association (CGA) Conference. Experts from across Canada and the world convened at Toronto's National Club for a cocktail reception, sharing food, drinks, and knowledge in anticipation of the weekend.
Among the evening's attendees were several of the conference's experienced speakers, including Richard Drucker of Gemworld International, Eric Fritz of Gem-A, Alex Grizenko of Lucent Diamonds, Alan Hodgkinson of the Scottish Gemmological Association, Art Samuels of Estate Buyers, and Brad Wilson of Alpine Gems. Naturally, representatives of CGA were also in attendance, including Donna Hawrelko (the organization's current president), Karen Howard (the conference chair), and CGA past president Duncan Parker.
With this many expert minds in one place, conversation was bound to turn to current and complex topics, with much discussion of the gem and jewellery industry's past, present, and future. From the merits of synthetic diamonds to the availability of Canadian tourmalines to pearls and coloured gems, the evening was awash in professional takes on all aspects of the industry.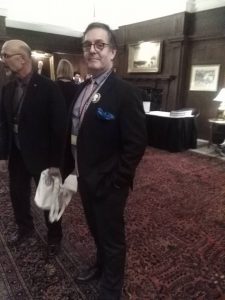 This also provided an excellent learning opportunity for some of gemmology's bright new minds, as several students of CGA programs were also in attendance. The social setting of the evening created a relaxed environment in which they could learn from experienced members of the industry.
Next year's CGA Conference was also a hot topic. Excitement is already growing for this Vancouver-based event, which doubles as a celebration of CGA's 60th anniversary.
To learn more about CGA and this year's conference, visit www.canadiangemmological.com.
~By Carly Midgley