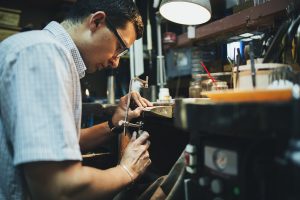 Canada's newest jewellery designers are invited to test their skills with the first annual Emerging Artist Jewellery Design Competition from the Canadian Gemmological Association (CGA). The contest is open to any designers currently enrolled in a Canadian postsecondary institution, as well as new graduates from 2017 and 2018.
"This is very exciting for CGA because we will be able to showcase ingenious and innovative design students at our upcoming 60th anniversary celebration later this year," said Donna Hawrelko, the association's president.
The three winners of the competition will indeed receive exposure at CGA's anniversary conference, to be held in Vancouver from October 19 to 21. They will also earn cash prizes: $1000 for first place, $500 for second, and $250 for third.
Submissions must be made by midnight on June 30. All entries are judged by a panel of experts based on wearability, workmanship, incorporation of materials, and innovation. Each submitted piece must include at least one gemstone (natural or synthetic, rough or faceted) and be accompanied by a name, photo, and description. Details on the competition are available online.
"The jewellery industry is big business in Canada—over $3 billion and growing—so we are eager to showcase Canadian students and their designs in this exciting new format," said Hawrelko. "We cannot wait to see what Canadian designers have to show. This is just one of many things CGA has planned throughout the year to celebrate our Diamond Anniversary."