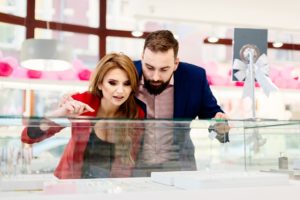 De Beers Group's blockchain platform, Tracr, has expanded in reach thanks to a new partnership.
Hong Kong-based jewellery conglomerate Chow Tai Fook has joined the pilot program, allowing it to more readily reach the Asian diamond sector. The group's participation particularly supports expansion into Greater China.
The goal of improving consumer confidence in the diamond trade was a major factor in Chow Tai Fook's decision to participate, reports its managing director, Kent Wong.
"Authenticity, provenance, and traceability are increasingly important in the jewellery sector, particularly for consumers who [wish] to know the jewellery they purchase supports their values and expectations," said Wong. "We are thrilled to join the pilot led by De Beers Group."
The Tracr pilot, which launched at the beginning of 2018, is intended to support the creation of a digital ledger encompassing the full diamond supply chain. It relies on blockchain and artificial intelligence (AI) to accomplish this.
"Chow Tai Fook's participation will help to ensure Tracr meets the needs of all types of businesses in a range of different geographies," said Jim Duffy, the program's general manager. "This is critical to Tracr's objective of establishing traceability, provenance, and authenticity for the diamond industry, which consumers and businesses alike have told us is the new standard they are looking for."