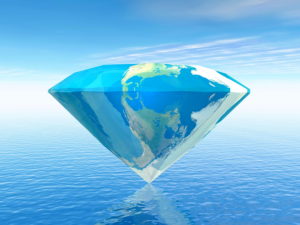 The World Jewellery Confederation (CIBJO) is continuing its five-year streak of being certified as carbon neutral by environmental consulting organization, Carbon Expert.
The first step to this designation involved measuring all CIBJO's greenhouse gas (GHG) emissions from 2017, including those generated at its annual congress in Thailand. GHGs can be produced by multiple sources and include:
carbon dioxide (CO2), generated by burning fossil fuels;
methane, generated from coal, natural gas, and oil production as well as agriculture;
nitrous oxide, generated from agriculture and industrial activities and the burning of fossil fuels and solid waste; and
fluorinated gases, which are occasionally substituted for stratospheric ozone-depleting substances.
Once Carbon Expert had determined the confederation's carbon footprint, CIBJO counterbalanced those emissions by purchasing 131 voluntary carbon units (VCUs) and investing them in a recognized carbon-offsetting project: a 300-MW hydroelectric plant in India.
These efforts are part of the organization's work to promote environmental responsibility in the jewellery and gemstone sector through its Greenhouse Gas Measurement Initiative.
"Accelerating climate change through global warming is arguably the greatest challenge of our time. The vast majority of scientists agree it largely is a result of the massive quantities of carbon gases we humans have pumped over many years into the atmosphere, and if the trend is not reversed, the consequences will be even more devastating. But no single act will solve the problem," said Gaetano Cavalieri, president of CIBJO. "It is up to all of us. The CIBJO Greenhouse Gas Measurement Initiative was established to provide our sector a way of playing its part."
Created by the confederation's Marketing & Education Commission, the initiative is intended to improve companies' understanding and reduction of their possible negative environmental impacts. Carbon Expert, for example, offers its services to companies that are part of the program, helping them understand and comply with International Organization for Standardization (ISO) 14064, Greenhouse Gases, and ISO 20121, Sustainable Events.
For more on the initiative, click here.