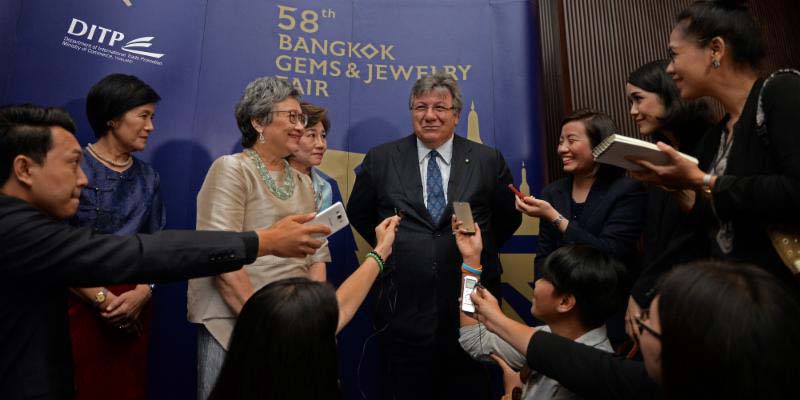 Thailand should position itself as the primary access point to the gemstone and jewellery industries and markets of the ASEAN bloc.
That's the message CIBJO president Gaetano Cavalieri delivered in Bangkok during his keynote address at a dinner summit organized by the country's Department of International Trade Promotion (DITP).
Doing so, he said, would allow Thailand to serve as a centre connecting and servicing the entire region, while also acting as a bridge-way that links it to the world.
DITP, which is the department within Thailand's ministry of commerce, has recently expanded its involvement in the gemstone and jewellery industry, taking over the management of the Bangkok Gems and Jewellery Fair.
Cavalieri said that while Thailand's exports grew over the past 10 years by almost 300 per cent to about $11 billion and peaked in 2012 at $13.1 billion, it is not always considered a world leader.
"Your credentials as a major gem and jewellery centre are indisputable," Cavalieri said. "But what then are the elements that set you apart? What is your unique selling proposition?"
"Thailand's second-tier status as a centre has less to with production and sales capacity than it has to do with how it is perceived in business," he said. "But perception is critical, for the way you are perceived by others affects your ability to market your products, and consequently, is a principal factor in deciding whether you will be able to optimize sales and exports. As it is said, success breeds success, meaning that if you are better able to project your image as a world leader, it is more likely you will optimize your export capability."
The ASEAN bloc comprises Indonesia, Malaysia, the Philippines, Singapore, Myanmar, Cambodia, Laos, Vietnam, and Brunei. The status of being the primary gem and jewellery centre in the area could be an irresistible USP for Thailand, given the region's attributes, Cavalieri added.
"Besides being a rich source of gemstones and pearls, and home to a group of fast-growing gemstone and jewellery industries, it is a region with a population of more than 600 million people, which is larger than those in the European Union or North America, and it has the third-largest labour force in the world, behind China and India," he explained.
Cavalieri said a McKinsey study conducted two years ago found that if the ASEAN bloc were a single country, it would already have constituted the seventh-largest economy in the world in 2013, with a combined GDP of $2.4 trillion. Further, the region is projected to rank as the fourth-largest economy by 2050.