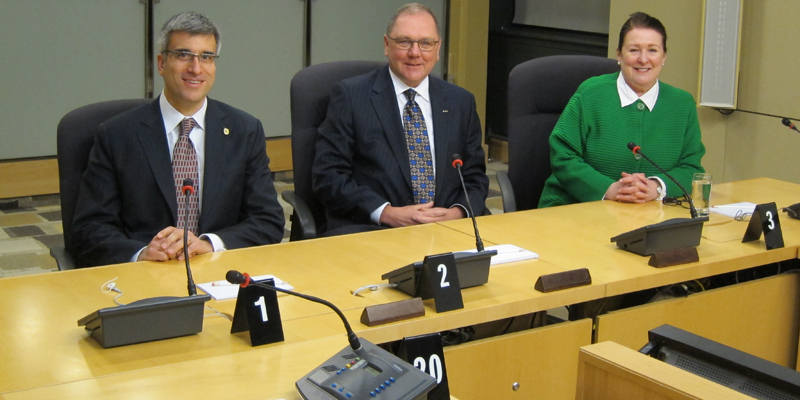 Raising the cash threshold to $15,000 and exempting jewellers not engaging in transactions above that amount are two changes to Canada's anti-money laundering laws being proposed to government.
Meeting with the Senate Committee on Banking, Trade, and Commerce, representatives of the Canadian Jewellers Association (CJA) and Jewellers Vigilance Canada (JVC) made their case for easing up on proposed amendments that would place "potentially onerous compliance burdens on our industry, particularly small businesses."
The committee is currently conducting its five-year review of Canada's Proceeds of Crime (Money-Laundering) and Terrorist Financing Act (PCMLTFA). Last fall, the Department of Finance (DOF) issued two public consultation papers with amendments and enhanced requirements for all sectors, including dealers in precious metals and stones (DPMS).
According to CJA and JVC, the regulations have created difficulties for some jewellers at both the retail and wholesale level.
CJA president and chief executive officer (CEO) David Ritter, JVC executive director Phyllis Richard, and past CJA chair Alex Barcados spoke on behalf of the jewellery industry.
The presentation comes at a time when FINTRAC—the government agency that oversees enforcement of the regulations—is requesting completion of compliance assessment reports from DPMS.
Other recommendations proposed by the CJA and JVC included:
• no further amendments be applied to the DPMS sector pending FINTRAC's current assessment of the industry's compliance to the existing regulations;
• broadening the anti-money laundering regulations to apply to auction houses;
• extending the cash threshold on all non-financial industries (e.g. car dealerships);
• providing jewellers with more specific typologies in the guidelines on money laundering in the industry, as well as a sample compliance regime for small, medium, and large jewellery businesses;
• the need for government-developed marketing material, such as a consumer brochure explaining the need for identification and other information when purchasing with large cash amounts.
"The CJA and JVC are joining other stakeholder groups in a dedicated commitment to combating money laundering and terrorist financing," Ritter said, adding the response from the committee to the presentation was positive.
"It was very productive and rewarding to see the JVC and CJA combine forces to represent not only our members, but the entire DPMS sector, by presenting our perspective and recommendations to the senate committee. We hope the Canadian jewellery industry will be in a much better position on compliance regimes in the future, and we are proud that our collaboration may make it happen."
The senate committee requested the recommendations be put in writing.
Richard said the joint presentation provided members of the committee with a better understanding of the jewellery sector.
"The CJA and JVC presented to the senate committee a description of a unique industry, comprised of mostly privately owned entrepreneurial small businesses that have witnessed first-hand what organized crime can do to harm ethical industry members," she said. "The DPMS sector is somewhat unfamiliar with the intensity and detailed compliance requirements to such complex regulations as posed by this regime. The senate committee heard our words."