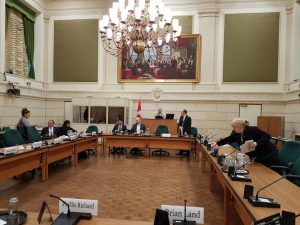 On March 21, the Canadian Jewellers Association (CJA) assisted the Canadian government in its statutory review of the Proceeds of Crime (Money Laundering) and Terrorist Financing Act (PCMLTFA). CJA consultant, Phyllis Richard, and general manager, Brian Land, appeared before the House of Commons Standing Committee on Finance as witnesses representing the jewellery industry, offering an insider's perspective on how this act affects the trade.
"It is so important for our industry to have a voice within Parliament when laws affecting jewellers are being reviewed," said Land in an exclusive interview with Jewellery Business. "CJA is that recognized voice."
This is especially important, he says, because "anti-money laundering and anti-terrorist financing (AML/ATF) compliance can be quite onerous and difficult to understand, especially for independent retailers and wholesalers."
Since 2008, jewellers have been legally obligated to comply with AML/ATF regulations. The government initiated this review in hopes of bettering its understanding of the relevant risks and ensuring the legislation effectively protects Canadians and the national and global market.
To this end, Land shared an overview of the unique characteristics of the Canadian jewellery industry with the committee, and Richard followed with an overview of the trade's challenges.
"The opportunity to appear before this parliamentary committee is of benefit not only to our lawmakers in Canada, but also to jewellers," Richard told Jewellery Business. "We have such a diverse industry, and we are unlike any other sector that must comply with this law. The challenge for CJA is to bring a better understanding to the government of how jewellers conduct business so further amendments do not add to the compliance burden already felt by industry members."
~By Carly Midgley