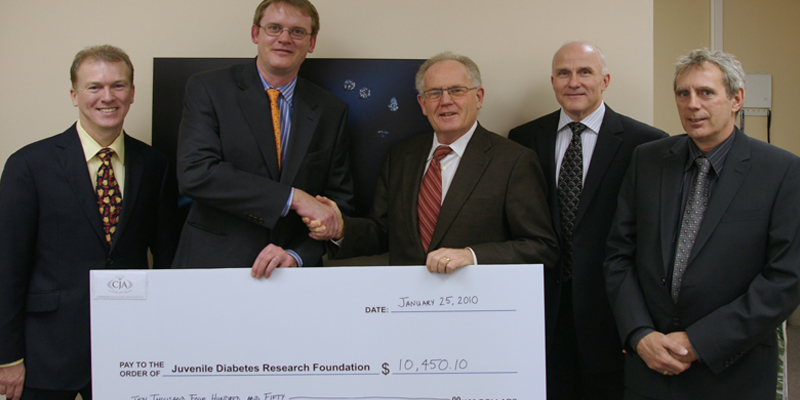 The Canadian Jewellers Association (CJA) has donated $10,450 to the Juvenile Diabetes Research Foundation (JDRF) as part of its National Jewellers Charity Program.
The donation—made up of contributions from CJA members matched by the association—was presented last month to JDRF president and chief executive officer (CEO) Andrew McKee.
"We are proud of our members who participated in the National Jewellers Charity Program and reached out and made a donation," said CJA president and CEO Ken Mulhall.
"It is satisfying to see that over and above their local charity programs, members dug even deeper and gave to JDRF."
The CJA selected the foundation as the recipient of its annual charity program, which was proposed by Morris Robinson, the association's past chair. The partnership encourages members to make a yearly charitable donation.
JDRF will also be the recipient of donations to the 2010 charity program. Once again, CJA will match contributions made by its members to a maximum of $10,000.
"Through their generous donation, JDRF can fund research that will lead to cures for millions of children and adults living with type 1 diabetes," McKee said.
Dave Reid, chair of the CJA's charity committee, thanked members for their contributions and encouraged further support.
"We hope we can increase this number substantially with contributions through donations and from fundraising efforts by our members."