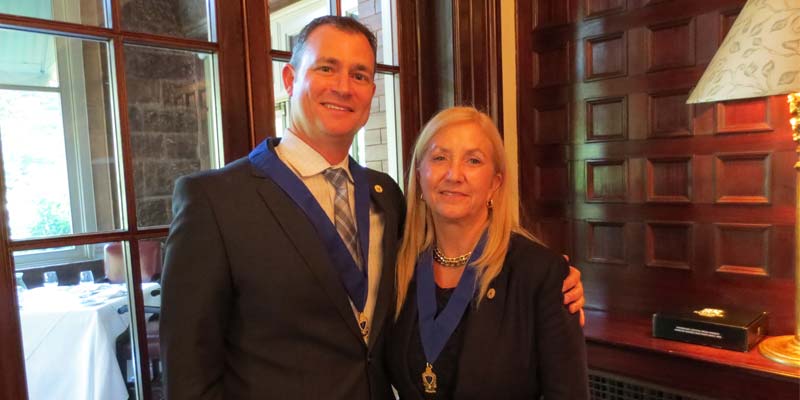 Empress Jewellery's Darren Dubrovsky has been appointed chair of the Canadian Jewellers Association (CJA) for 2016-2017.
Held at Toronto's York Club, the association's annual general meeting saw about 50 people gathered for the collar ceremony. CJA outgoing chair Tanya Parrish of Canadian Gem presented Dubrovsky with the collar of office.
"It is my intention to help lead the association to achieve the goals set out by the board," Dubrovsky said.
"It is my aspiration to have an effective board of directors in place. An exemplary office is key to providing leadership and education to ensure the adoption of best practices amongst its members; to promote information-sharing; to ensure fair and equitable consideration by all levels of government; and to assist members to afford services, information, and technologies that support the equality, security, and profitability of our businesses, creating consumer trust and respect for the Canadian jewellery industry."
A second-generation jeweller, Dubrovsky is president of Montreal-based Empress Jewellery and leads the company with his brother, Gary. A graduate of McGill University, Dubrovsky worked for 10 years in Montreal's garment industry before he and his brother took over the family business from their father in 1999. Since then, they have grown Empress Jewellery as a wholesaler, distributing such lines as Shah Luxury's Carizza and LeCirque.
Dubrovsky's first official duty as chair was to present the 2016 Chairman's Award to Adom Knadjian, president of B&S (Canada).
Established in 2000, the award honours an individual who has gone above and beyond to enhance the profile of the Canadian jewellery industry by maintaining the highest professional standards and integrity.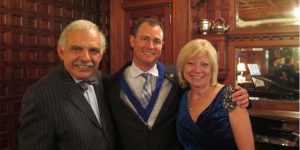 Born in Addis Ababa, Ethiopia, Knadjian is the son of a Swiss watchmaker. Educated in the United Kingdom and Switzerland, he went to school to specialize in languages and commerce. In 1977, Knadjian immigrated to Montreal and soon landed a job in the watch department at a Mappins store on Saint Catherine Street. Two years later, he was recruited by Backes & Strauss to open a wholesale distribution office in Toronto. In 2005, Knadjian and his brother, Vartkess, bought Backes & Strauss Canada and changed its name to B&S (Canada). Seven years later, he purchased the remaining shares from Vartkess.
Knadjian's association with CJA goes back to the 1980s when Backes & Strauss Canada became a corporate member. In the early 1990s, he was elected to the CJA board and sat on the executive board until 1997. From 1998 to 2001, Knadjian sat on the board of directors of Jewellers Vigilance Canada (JVC). He is also a founding member and first president of the Armenian Jewellers Association of Ontario and a board member of the Canada Armenia Business Council.
Appearing visibly moved by the recognition of his contribution over the years, Knadjian spoke of his love for the industry and his father's role in shaping and inspiring him.
"I'd like to dedicate this award in memory of my father, a self-made, humble watchmaker," he said.
"I learned from him, through observation and osmosis, the love for family, ethics, integrity, general knowledge, and passion for the watch and jewellery industry. I am happy to say that I not only inherited his public relations talent, business letter-writing skills, and commercial acumen, but also his passion for tying and wearing a bow tie on most days. As a tribute to him, I'm wearing one of his vintage bow ties today.
"There are many worthy candidates in the Canadian jewellery industry. It is therefore a privilege, honour, and humbling experience to be nominated and selected as this year's recipient of the coveted Chairman's Award."
CJA also bestowed the Erol Paylan Memorial Award on Sonja Sanders of Jewellery by Sanders in Oshawa, Ont. The award honours the memory of the association's first vice-chair. Paylan—who was known for his penchant for asking probing questions about life—died in February 2013 at the age of 52. His son, Alex, was on hand to present the award to Sanders.
A graduate gemmologist and goldsmith, Sanders got her start making fitted wedding and engagement rings in the store she co-founded with her parents in 1982. Over the years, she has shared her love of gems by teaching mineralogy to local students. Sanders is also involved in CJA initiatives, including the MasterValuer program and working with the association's education committee on the new jewellery management course. As a company, Jewellery by Sanders is heavily involved in local community and charity events benefiting cancer causes and children.
"I am pleased to be among those who have been blessed with such recognition," said Sanders, who also serves as a CJA board director. "We are fortunate to be involved in such a wonderful industry. What other trade produces items that are so sentimental and held dear for generations. In many cases, jewellery is a part of our rites of passage. I love gemstones and diamonds—teaching about them gives me the hope I am a reflection of the people who have inspired me."