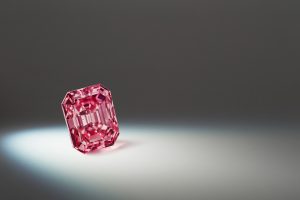 Rio Tinto's upcoming Argyle Pink Diamonds Tender will include two diamonds that break company records. The 'Argyle Alpha' and 'Argyle Muse' are two of six featured diamonds headlining the 63-piece sale.
The emerald-cut Argyle Alpha weighs 3.14 carats and is the largest vivid pink diamond ever to be offered at the tender. Similarly, the 2.28-carat, oval-cut Argyle Muse is the largest purplish red diamond ever brought to the sale. The other featured diamonds range in size from 1.29 to 2.08 carats and include a fancy vivid purplish pink, a fancy dark grey-violet, a fancy intense pink, and a fancy red.
"We expect considerable interest in this year's collection," said Jean-Sébastien Jacques, Rio Tinto's CEO. "The combination of strong demand and extremely limited world supply continues to support significant value appreciation for Argyle pink diamonds."
In total, 51.48 carats of diamonds will be offered at the sale. The gems will be showcased in Sydney, Hong Kong, and New York, with bids closing on October 10.