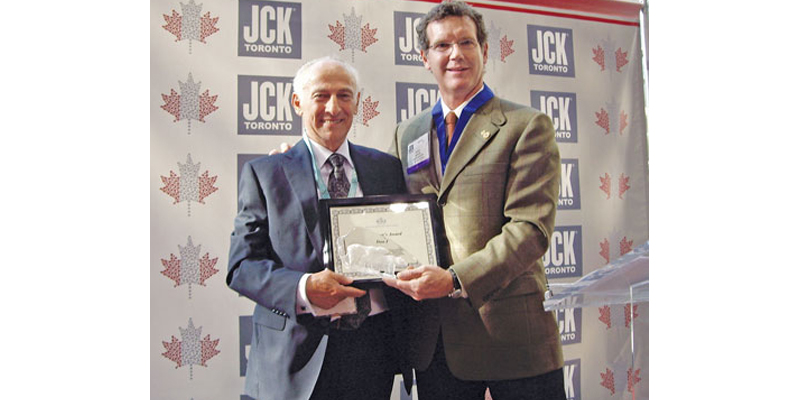 Dan Panos of Corona Jewellery is the recipient of the Canadian Jewellers Association's (CJA's) 2010 Chairman's Award.
Handed out at a JCK Toronto reception hosted by Pandora Jewelry, the award recognizes individuals who have enhanced the profile of the Canadian jewellery industry. Newly named CJA chair Peter Norton of Nortons Jewellers in Charlottetown presented Panos—a 45-year veteran of the industry and Corona's vice-president of sales—with the award.
"Because of Dan's many years of loyal service to our industry, I'm sure there are many of you who have a story to tell about your experiences with him, especially if you've been blessed with his world-famous, genuine hugs," said Norton, a longtime friend.
Panos emigrated with his family to Canada from Macedonia in 1946 at the age of eight.
After graduating from what was then Ryerson Polytechnical Institute, he worked as a buyer with Sears before joining Corona Jewellery in 1967 as a salesman. Over the years, he has mentored and trained Corona's sales staff, working his way up to vice-president of sales. Panos' contributions also go beyond the jewellery industry. As a youth leader at St. Bride's Anglican Church in Mississauga, Ont., he founded a centre for young people.
"I am really shocked, to say the least, and deeply honoured," said Panos after taking the podium. "Not many people can claim to have been at the same company for as long as I have. [My career] has taken me around the world to find friendship and experiences I will always treasure."
For a full report on JCK Toronto, see the October issue of Jewellery Business.