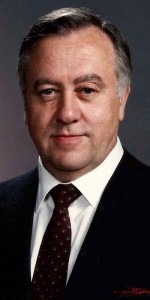 Albert Minister of Toronto's Corona Jewellery Co. has died at the age of 87.
Born in 1928, Minister learned the craft of making fine jewellery in his native Pforzheim, Germany. By 1951, he had immigrated to Canada, founding Corona eight years later. The company would go on to become a heavyweight in manufacturing Canadian diamond jewellery.
He died peacefully surrounded by his family in Toronto on June 2.
"Albert Minister never stopped working or striving to make Corona the company you see today," said his son, John Minister, president of Corona Jewellery.
"He continued to come into the office right up until the day he was hospitalized. That just shows how truly dedicated he was to this company. The kind words and support from our friends and industry colleagues has been greatly appreciated and demonstrates how many lives he truly touched."
Albert's grandson, Robert, recalls how his grandfather bought him his first set of jeweller's tools for his 16th birthday.
"I had already decided at that point that I wanted to be a jeweller and he really afforded me all the opportunities to do that," he said. "Being the founder of the company, he loved being here and he loved the people he worked with. He came in every day and even on Sundays. When he was able to drive, he would, and when he wasn't able to drive, my brother, Michael, or I would pick him up. He wanted to be here and feel the energy from the industry."
J. David Ritter, president and chief executive officer (CEO) of the Canadian Jewellers Association (CJA), called Minister "a true pioneer and dedicated supporter to our association."
"Since starting Corona Jewellery Co. in 1959, Albert and his family have played a vital and inspirational role in the Canadian jewellery marketplace," Ritter said. "I had the privilege of meeting Mr. Minister during my first visit to the Corona offices. The board of directors and the staff at the Canadian Jewellers Association send our sincere condolences to John Minister (past president of the CJA board) and his family."
Chris Knight, president of Platinum Unlimited, recalls running into Minister from time to time in Toronto's jewellery buildings.
"He was a man with huge determination and passion," Knight said. "He would drive by his business after hours just to look at it. He had vision and was extremely driven."
Minister was married to Catherine Wickens and the late Katherine Pataran, who predeceased him in 1987. He is survived by his son, John, and his wife, Katy; grandchildren Sandra, Robert, and Michael; stepchildren, David and Mathew; and step-grandchildren, Jan and Sam. Minister was the brother of the late Franz, Margarete, and Herta.