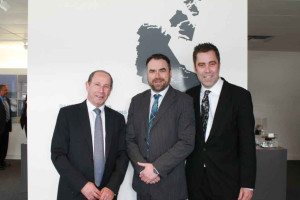 Tourists to the Northwest Territories can get a crash course in diamonds now that the NWT Diamond Centre has opened its doors.
Owned and operated by Crossworks Manufacturing Ltd., the facility is being billed as an added draw for tourists interested in seeing the journey diamonds make from mine to market.
"The opening of this centre marks a new and exciting chapter in our diamond story," said Minister of Industry, Tourism and Investment, David Ramsay.
"On behalf of the government of the Northwest Territories, I would like to congratulate Crossworks Manufacturing Ltd., on the superb job they've done in developing their Diamond Centre. This is an important step forward for our diamond economy."
Located in Yellowknife's downtown core, the NWT Diamond Centre includes a small theatre room and a number of exhibits. It was also designed to raise awareness of the Northwest Territories' socially and environmentally responsible mining practices and its production of world-class diamonds.
Visitors to the facility will also have the opportunity to purchase diamonds that have been mined, cut, and polished in the Northwest Territories. The centre will also carry Forevermark diamonds in what is described as the brand's most northern store in the world. Crossworks is a Forevermark diamantaire.
"Our polishing facility has been in operation since 2008, and I am thrilled to enhance our presence in Yellowknife with the opening of the NWT Diamond Centre." said Crossworks president Uri Ariel.
"It is my hope it informs people of all the work that goes into bringing these rare, rough diamonds from the mine to their beautiful final state."