By Jacquie De Almeida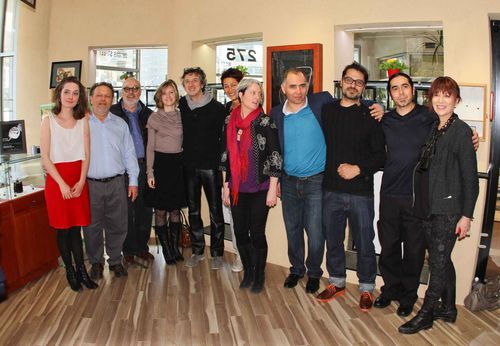 Montreal jewellery designer Claudio Pino has made countless rings over the years, but the one he has yet to create is his own.
"I don't know when I will make it, but when I do, it will have a green tourmaline set in platinum," he tells Jewellery Business.
It's standing room only at Toronto's 18Karat, which is playing host to D'Or, an exhibition featuring 14 jewellery designers from Quebec. Eight of them travelled to Toronto for the opening of the month-long show.
Making his way through the crowd, Pino heads toward the case that holds several of his one-of-a-kind sculptural and kinetic rings. Removing any of them from the case is a white-glove undertaking, although he is more than happy to slide a ring onto the finger of anyone who asks.
'Interactive Mirror' is especially popular with the crowd for its turn on the silver screen in last year's The Hunger Games: Catching Fire. The tiny mirror that sits atop it rotates 360 degrees, depending on the motion of the wearer's hand.
The Collective 14 was the brainchild of Patricia Kiley Faber, co-owner and curator of Aaron Faber Gallery in Manhattan. It was a visit by her on the invitation of Martin Thivierge, project manager of Société de développement des entreprises culturelles (SODEC), that sparked the idea of bringing together artists to represent Quebec's art jewellery scene.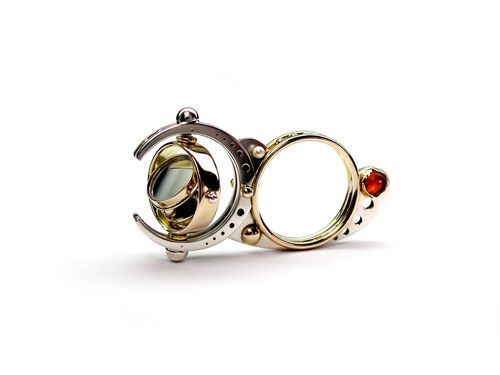 Over the last two years, the group has exhibited in New York, Ottawa, and Montreal. Each show is themed, and with a stop at 18Karat, D'Or seemed an obvious choice.
Janis Kerman, one of the featured artists, believes collectives like this one are a way for a designer to market themselves in a unique setting.
"As a group, we could present a variety of designs to galleries and shops and not necessarily focus on one person's work," Kerman says. "And there's enough diversity in what we do that there isn't a lot of repetition. It became a win-win situation. It's great that 18Karat has opened up their space to us."
Studio co-owner Dino Giannetti says holding these types of exhibitions are necessary to promote art jewellery to consumers who may be unaware of the scene.
"What we lack here in Toronto is that we don't take notice of the quality of work that comes out of this city's jewellers," he says. "We don't work together to create this kind of environment to show the immense talent we have here. Our industry should work hard at showcasing the talents of our artists."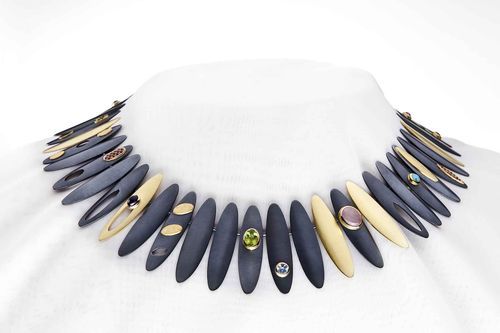 Kerman agrees. She says art jewellery has a bigger following south of the border.
"It's partly due to population, but there's also a history there of a craft movement that didn't necessarily happen in Canada in the same way," she says. "Part of the success of art jewellery in the United States is also in how retailers cultivate their clientele and make their market aware of being there with this kind of product."Â  
Creating a vibrant customer base is sometimes a matter of striking the right balance, says Barbara Stutman, another member of the Collective 14.
"You may have a line of more commercial pieces, and at the same time, have one-of-a-kind or limited-edition pieces," she says. "There's so much use of non-traditional materials. You can use things like fabric and rubber and still make jewellery that demands to be respected."
Antonio Serafino, also a featured artist, appreciates the latest technology used in making jewellery, but he's a firm believer the next generation of jewellers should be trained old-school.
"It's important to me that my students learn the difficulties of making jewellery," he says. "It's not always easy and they need to push themselves. When you make a piece, it has to be beautiful from all angles."
Annegret Morf, his wife and business partner, agrees. She's had clients come to her asking to repair a piece designed using CAD that has not stood up to wear because it was not made by a trained goldsmith.
"A designer has to have an idea of the hands-on aspect to making jewellery to be successful," she adds.
The Collective 14 are:
• Élise Bergeron;
• Matthieu Cheminée;
• Laurie Dansereau;
• Roland Dubuc;
• Gustavo Estrada;Â 
• Jean-Pierre Gauvreau;
• Janis Kerman;
• Christine Larochelle;
• Lynn Légaré;
• Annegret Morf;
• Pierre-Yves Paquette;
• Claudio Pino;
• Antonio Serafino; and
• Barbara Stutman.