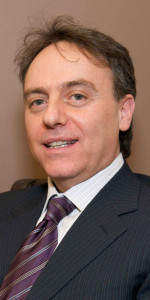 Some familiar faces make up the Diamond Bourse of Canada's new board of directors.
In addition to serving another two-year term as president, David Gavin has also been appointed treasurer. Allen Shechtman was re-elected vice-president, while Jeffrey Brenner will serve as secretary.
The remaining board members are: Greg Jacobson, Samuel Chmielash, Sampat Poddar, and past-president Bhushan Vora.
Gavin has served on the DBC board since its inception in 2009. He later assumed the office of treasurer, which he held until his appointment as president in 2012. The new board is mainly comprised of members who have served on either the first or second board of directors and have been elected to return.
Ten members vied for seven positions, with Chmielash—a new member—winning a spot on the board.