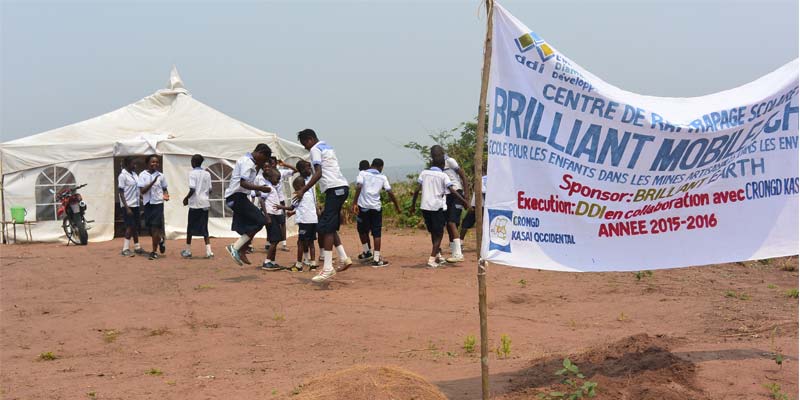 Children in a mobile schooling program in the Democratic Republic of the Congo (DRC) will be better prepared to enter high school, thanks to Brilliant Earth's grant to Diamond Development Initiative (DDI).
The contribution also supports the addition of a new group of children to form another class.
Launched in 2015, the Brilliant Mobile School offers a two-year remedial curriculum to prepare children for national exams and the opportunity to progress on to high school.
DDI established the program—'Sending Schools to Kids'—to help support children in Africa's artisanal diamond mining communities. Schools are often far away from mining villages—children who miss out on formal education may end up working in the mining fields.
"This small group of children is receiving high-quality education that could enable them to break the cycle of poverty," said DDI executive director, Dorothée Gizenga. "But there are hundreds, even thousands of children like them in artisanal mining communities in Africa. We call on local and international partners to do more to respond to this need. Through this donation, Brilliant Earth is ensuring continuity and showing the example."
With Brilliant Earth's support, DDI provides a facility, uniforms, school materials, and daily meals for the students, as well as training teachers and sending them into the community. Villagers support the project through construction, furniture building, security, and maintenance.
"The work of DDI to improve the conditions of artisanal diamond miners and their families aligns with our own mission to provide jewellery that consumers can be proud to wear," said Beth Gerstein, co-founder and CEO of Brilliant Earth. "We are happy to invest in the lives of these students and offer them a better future."